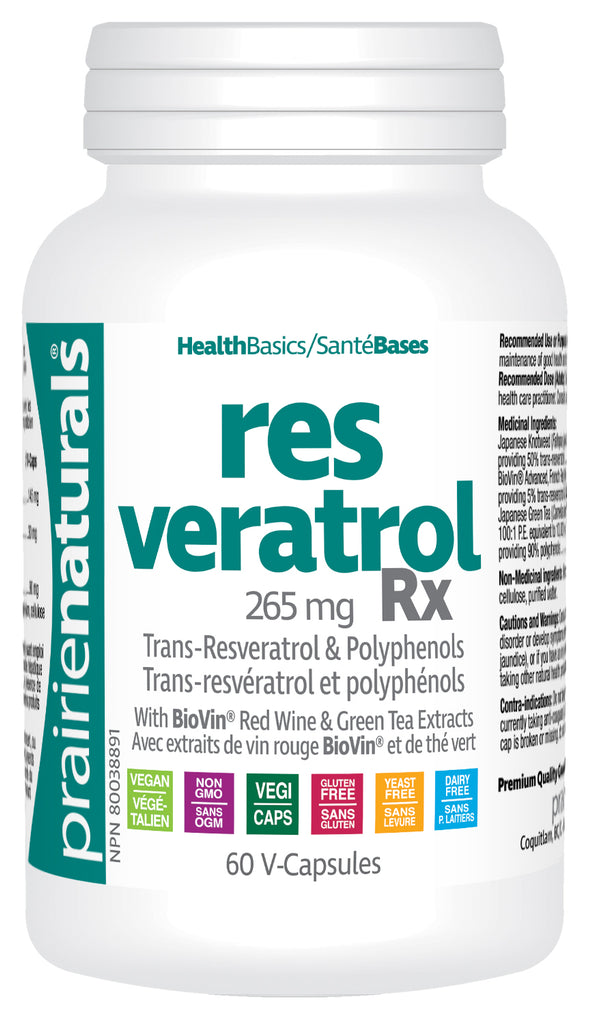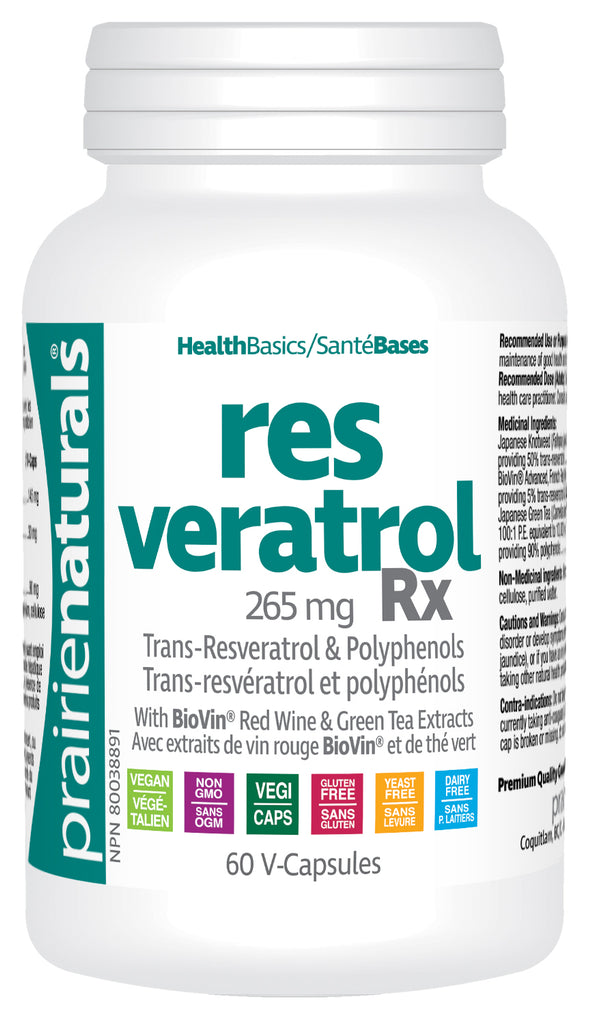 ---
---
Resveratrol Rx: Anti-Aging Super Polyphenol!
Resveratrol may be a key component of the famous "French Paradox". The fact that the French have lower heart disease rates than Americans even though they eat a diet higher in saturated fats and smoke more appears related to another fact about French people – they drink a lot of red wine! That means they get a regular dose of Resveratrol and other heart-protective chemicals called polyphenols. Each Resveratrol Rx capsule contains 75 mg of this potent form of Resveratrol. Prairie Naturals Resveratrol Rx combines two all-natural plant sources of Resveratrol – BioVin Advanced French Red Wine Extract and Japanese knotweed extract with a third potent polyphenolic antioxidant and anti-aging phytochemical – green tea extract.
Acting together, this high potency, synergistic trans-resveratrol and polyphenol complex ensures the strongest foundation for healthy aging and cardiovascular health.
Medicinal Ingredients:   –  1 V-Cap
Japanese Knotweed (Fallopia japonica) 290 mg
providing 50% trans-resveratrol – 72.5 mg
BioVin® Advanced, French Red Wine (Vitis Vinifera) Extract 100 mg
providing 5% trans-resveratrol & 25% polyphenols – 15 mg
Japanese Green Tea (Camelia sinensis) 100 mg
100:1 P.E. equivalent to 10,000 mg of dried plant
providing 90% polyphenols – 45 mg
Non-Medicinal: Microcrystalline, magnesium stearate, cellulose, vegetable cellulose, purified water.
Recommended Dose (Adults): Take 1 Capsule twice daily with meals, or as directed by a health care practitioner. Consult a health care practitioner for use beyond 4 weeks.
---