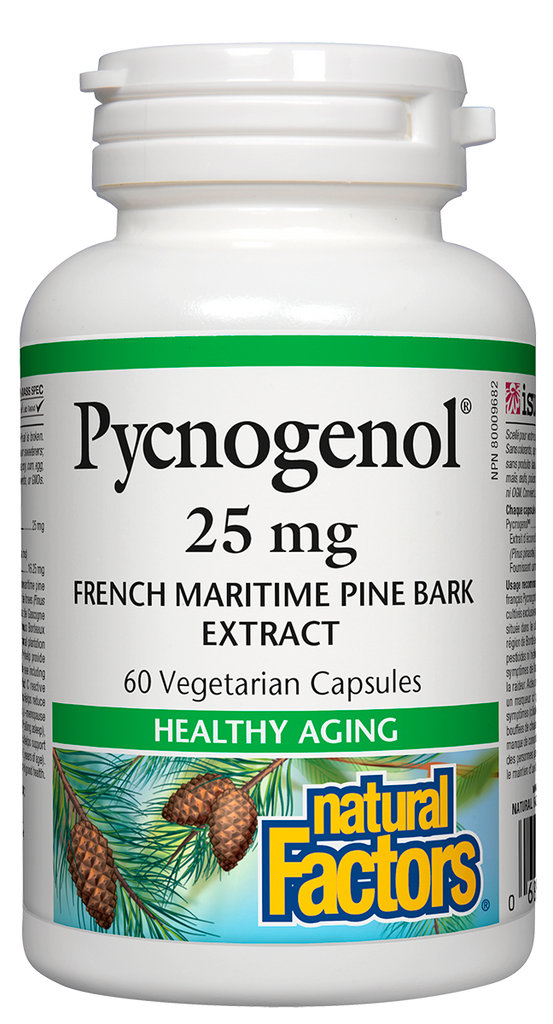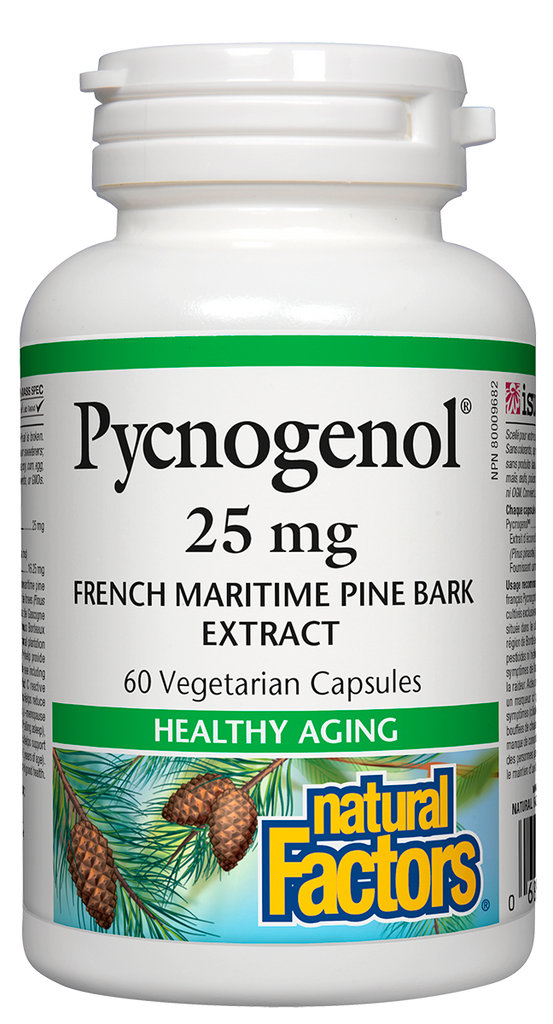 ---
---
Natural Factors Pycnogenol is made from the highest quality French maritime pine bark harvested from natural forests with no pesticides and no herbicides. Pycnogenol is one of the most potent natural antioxidants. Additionally, it is anti-inflammatory, increases nitric oxide levels, and supports collagen and hyaluronic acid production. Pycnogenol can help reduce symptoms of perimenopause and knee osteoarthritis and address age-associated inflammation, cognitive health, and free radical damage.
Medicinal Ingredients
Each vegetarian capsule contains:
Pycnogenol¨
25 mg
French maritime pine bark extract (Pinus pinaster) (bark) (65Ð75% procyanidins)

Providing minimum procyanidins
16.25 mg
Non-Medicinal Ingredients
Microcrystalline cellulose, vegetarian capsule (carbohydrate gum [cellulose], purified water), vegetable grade magnesium stearate (lubricant).

Pycnogenol French maritime pine bark extract is extracted from the bark of pine trees (Pinus pinaster) grown exclusively in Les Landes de Gascogne forest in southwest France near the famous Bordeaux region. The forest is an unspoiled and natural plantation with no pesticides and no herbicides. May help provide relief for symptoms of osteoarthritis of the knee including pain and stiffness. Helps to reduce blood C reactive protein, a clinical marker of inflammation. Helps reduce (climacteric) symptoms associated with peri-menopause including hot flushes, restlessness (difficulty falling asleep), and poor mental concentration and focus. Helps support cognitive health in an aging population (>60 years of age). Provides antioxidants for the maintenance of good health.
---