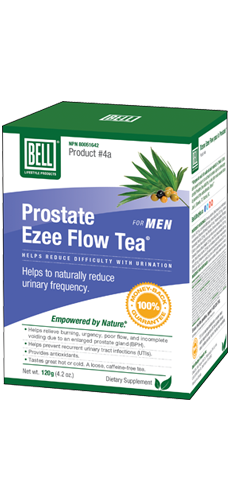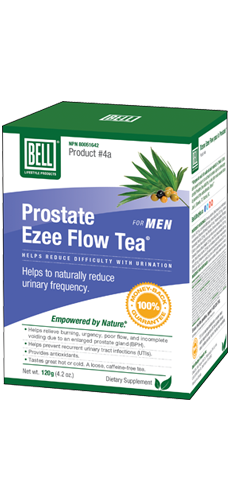 ---
---
Prostate Ezee Flow Tea is a natural health product, formulated to help ease the annoyance of frequent urination and other symptoms associated with enlargement of the prostate. This effective herbal tea has been one of our top sellers for many years.
Ingredients: Chamomile (Matricaria chamomilla) (flower) 325 mg, Cinnamon cassia (Cinnamomum aromaticum) (bark) 223 mg, Cranberry (Vaccinium macrocarpon) (berry) 500 mg, Damiana (Turnera diffusa) (leaf) 223 mg, Small-flower willow herb (Epilobium parviflorum) (aerial part) 500 mg, Siberian ginseng (Eleutherococus senticosus) (root) 345 mg, English lavender (Lavandula angustifolia) (flower) 223 mg, Lemon (Citrus x limon) (fruit) 123 mg, European peony (Paeonia officinalis) (root) 40 mg, Saw palmetto (Serenoa repens) (berry) 500 mg, Stinging nettle (Urtica dioica) (leaf) 408 mg, Stinging nettle (Urtica dioica) (root) 355 mg, English plantain (Plantago lanceolata) (leaf) 235 mg. (Amounts based on a 2 teaspoon/4 gram serving size).
Suggested Use: Adult Males: Drink 1 cup of tea, twice daily. After desired results have been attained, drink 1 cup of tea daily for maintenance as required.
Preparation: Measure enough water in a pot for the number of large cups (8 oz/250 ml) you want to make and add 2 heaping teaspoons per cup. Add 25% more water to compensate for evaporation. Make enough for a few days if you like. When you scoop the tea out, scoop deep down into the bag to make sure the tea is kept well mixed. Example: If you want to prepare 4 cups of tea, measure 5 cups of water and 8 heaping teaspoons of tea. Heat on a stove until boiling, then turn the stove off or set it to low and allow to simmer for 10 minutes. Stir and allow the tea to cool, then strain into a pitcher. For best results let it soak for a few hours or overnight before straining. Store the pitcher in the refrigerator and drink the tea cold or re-heated. You can put some in a thermos to take along with you to work. The tea has a pleasing aroma. The tea tastes great without sugar or sweeteners. If you prefer a sweeter tasting tea, use a little bit of stevia, xylitol, or honey. Do not prepare the tea by pouring hot water over it, as this will not give you the full benefit.
---