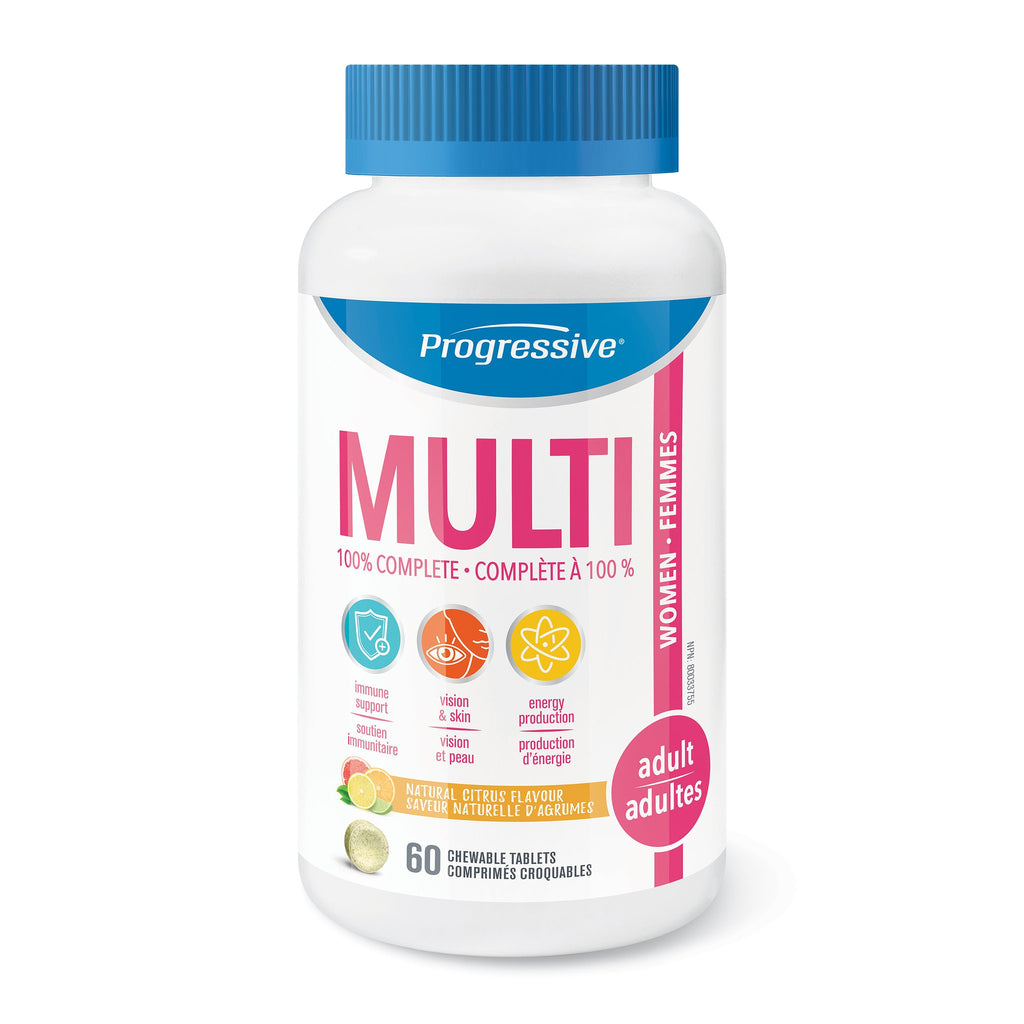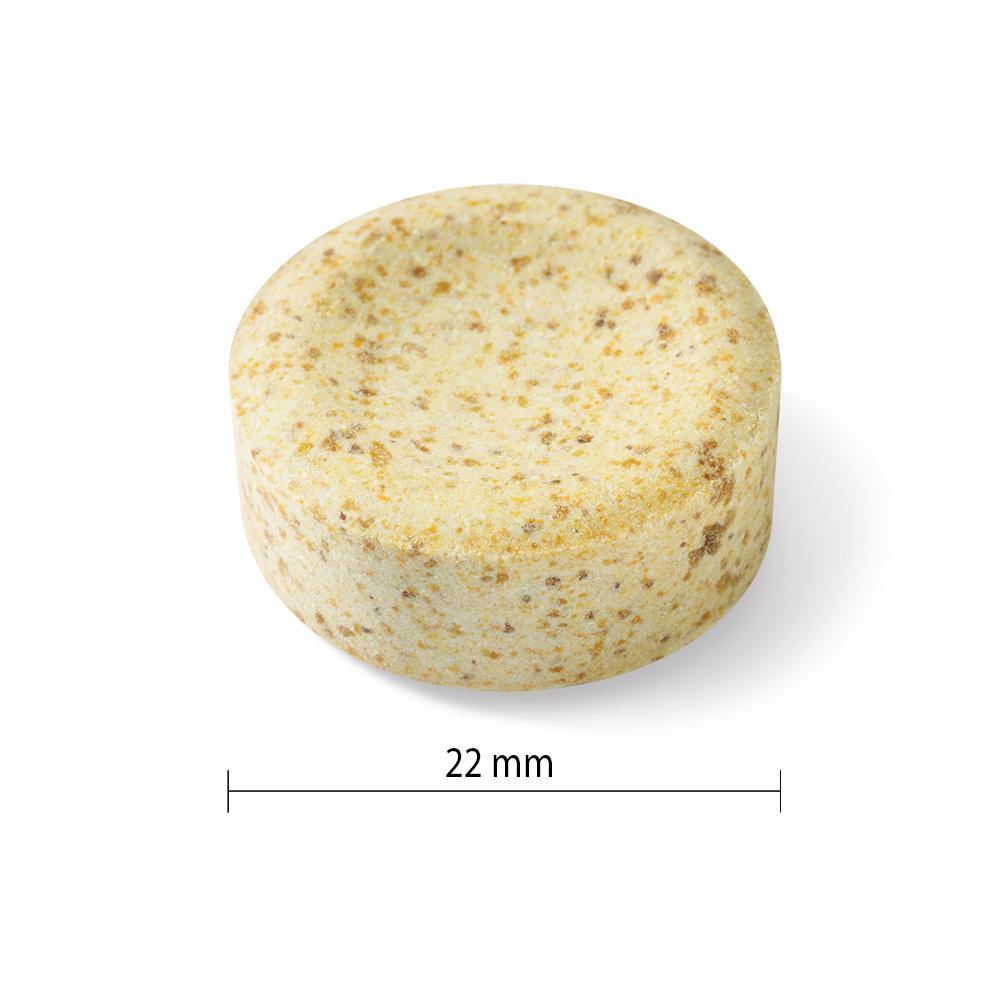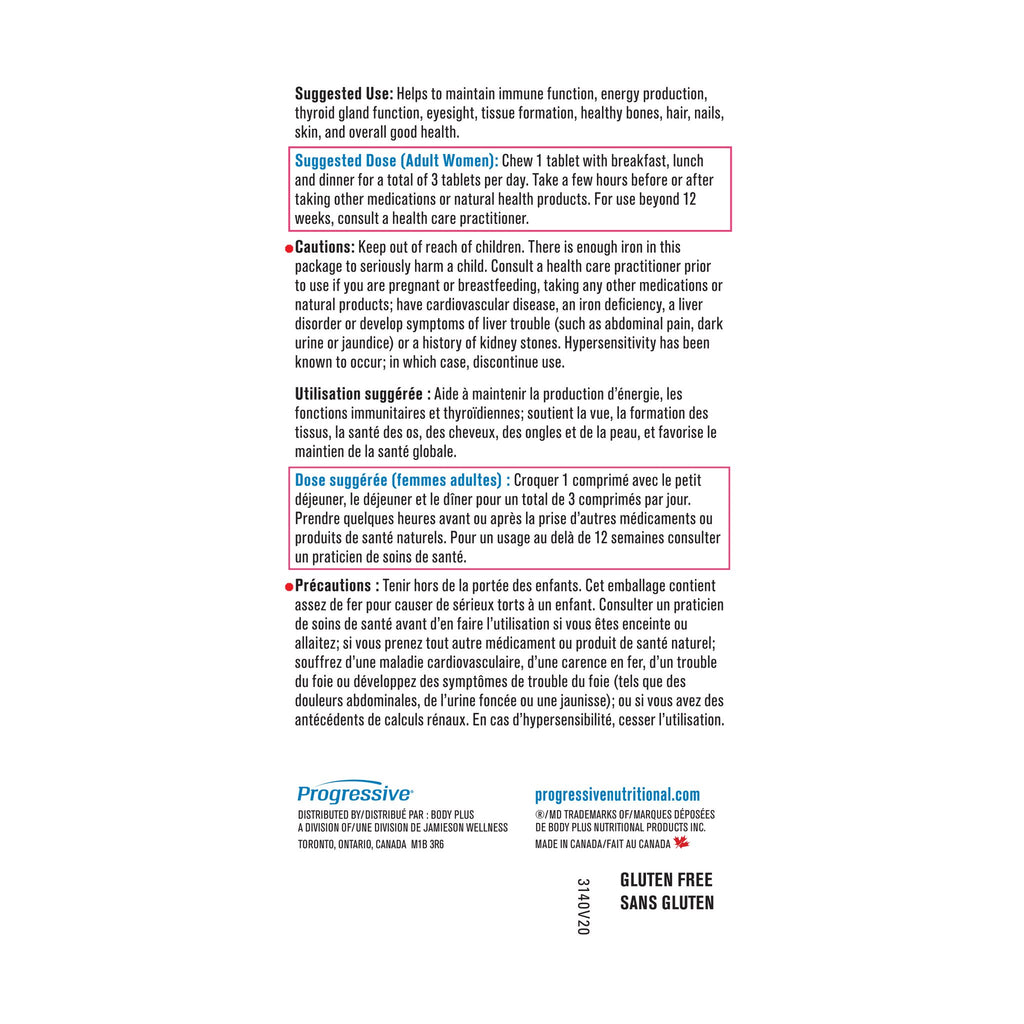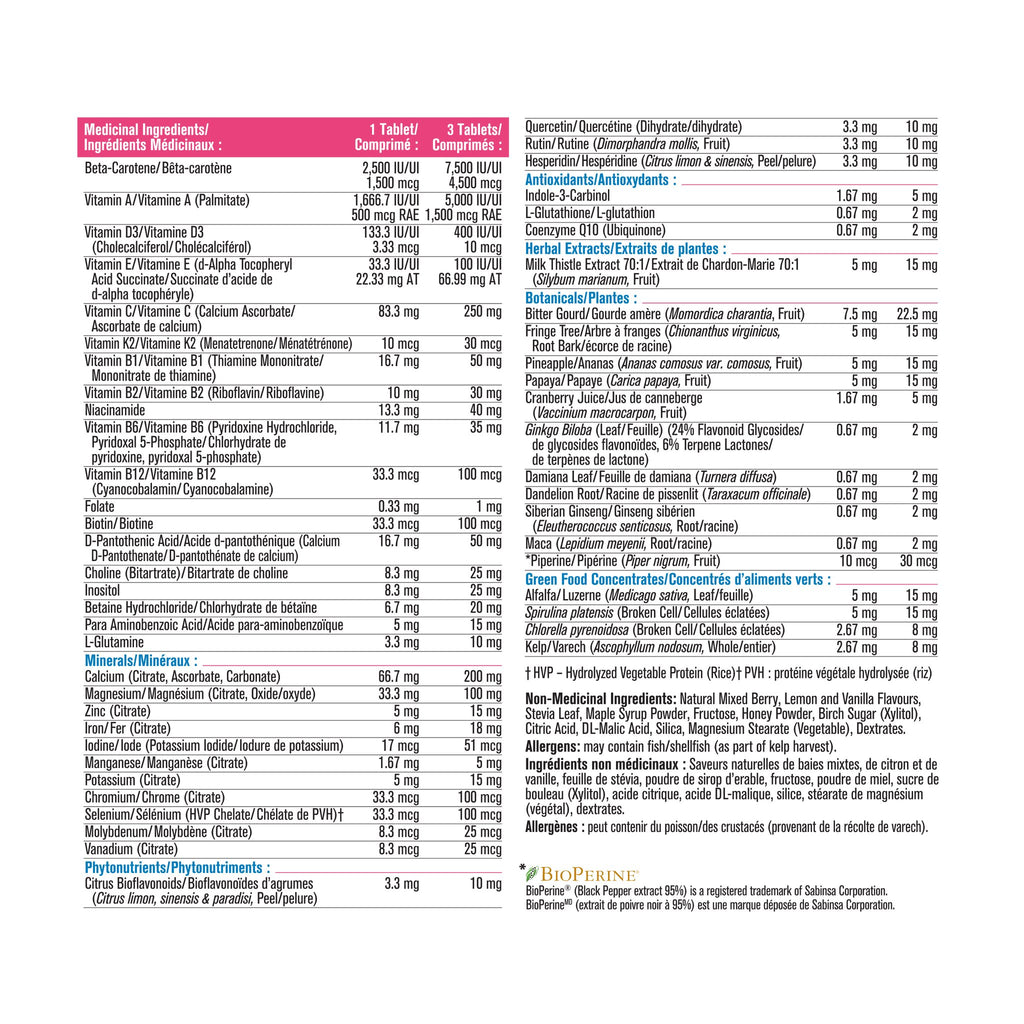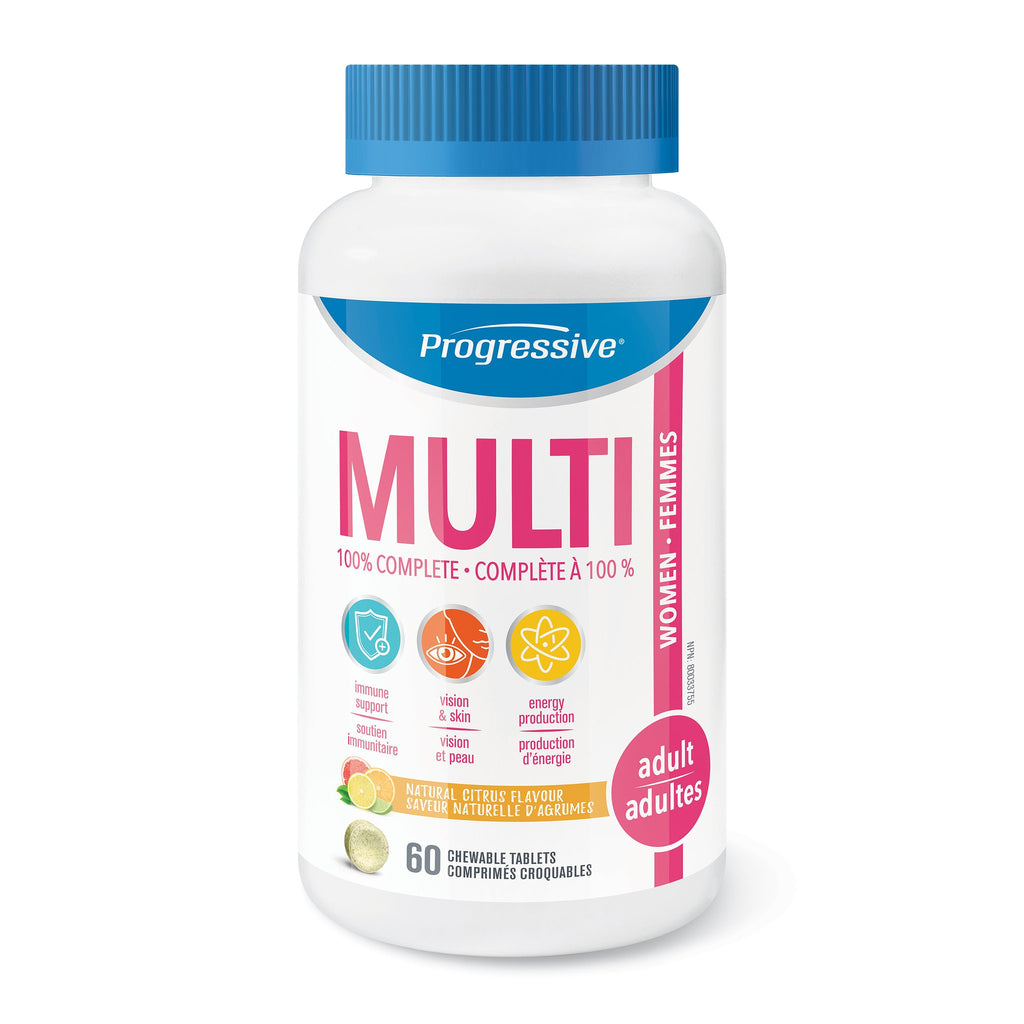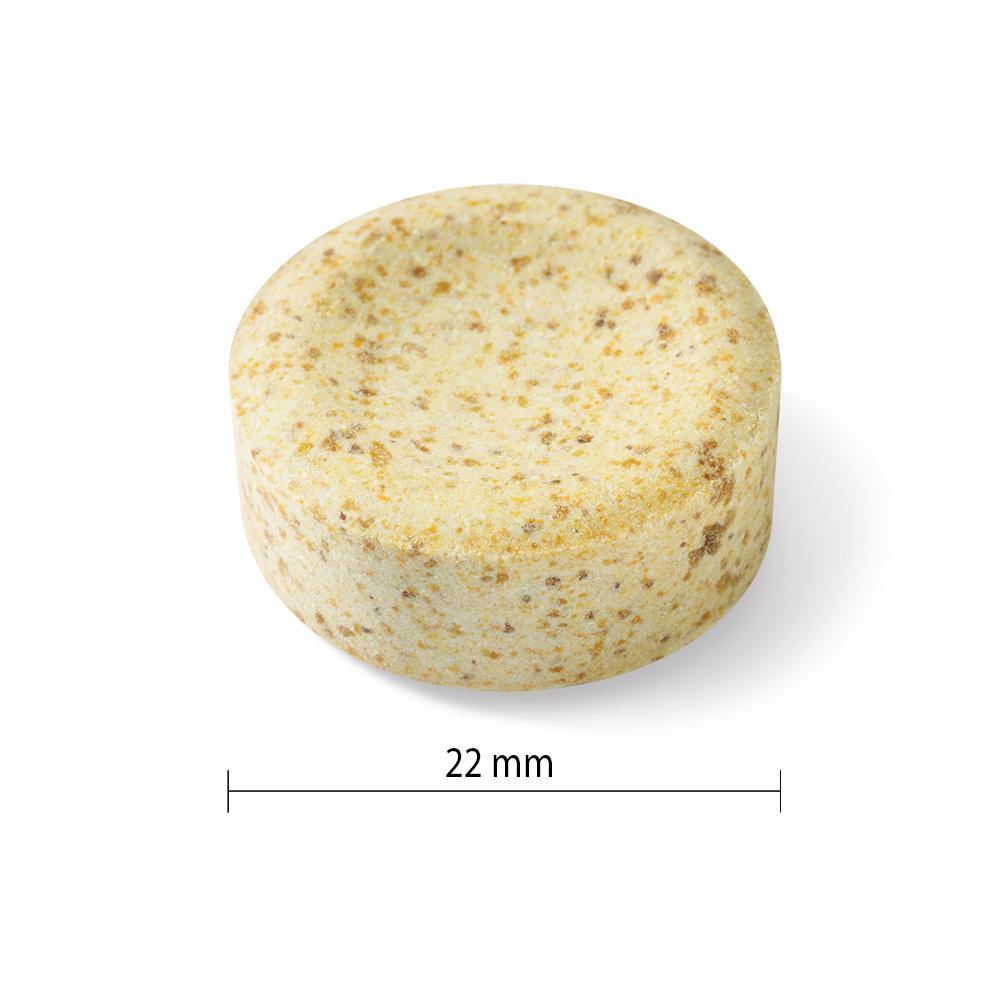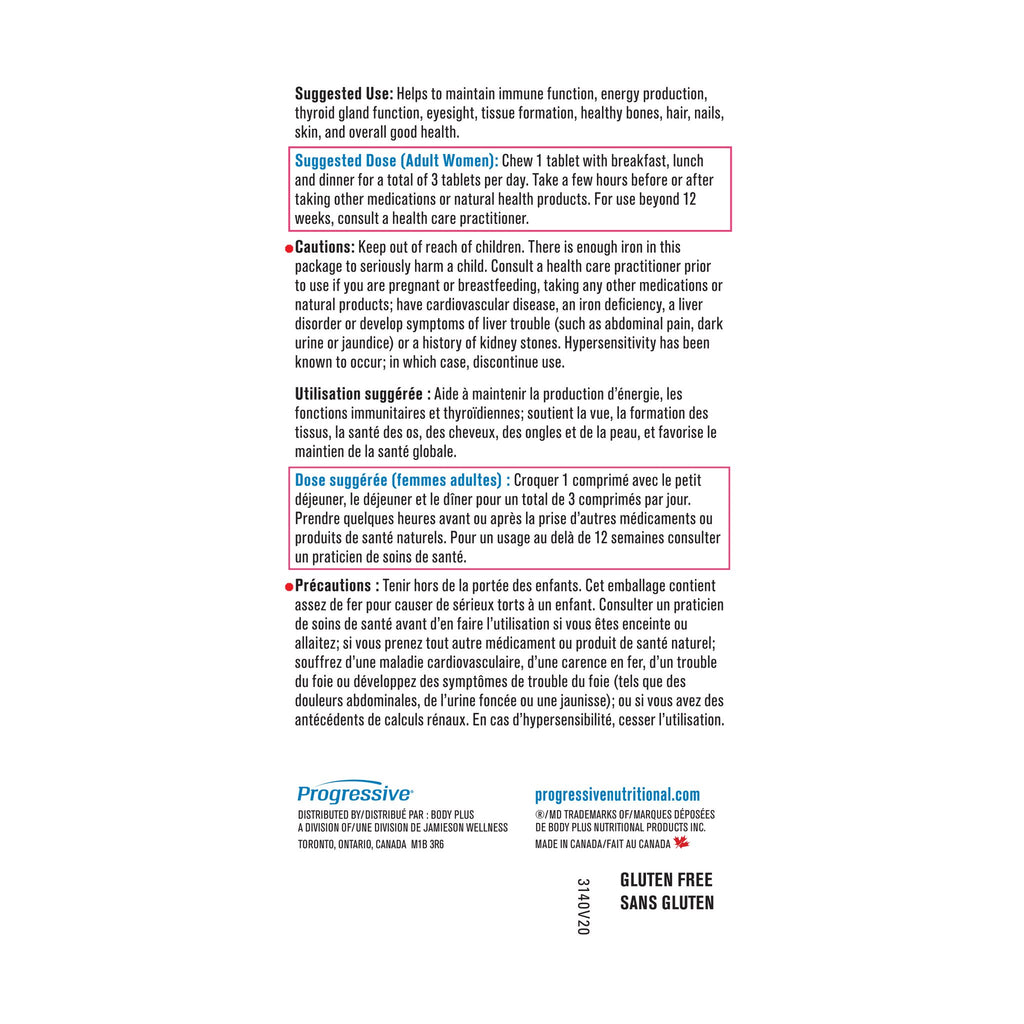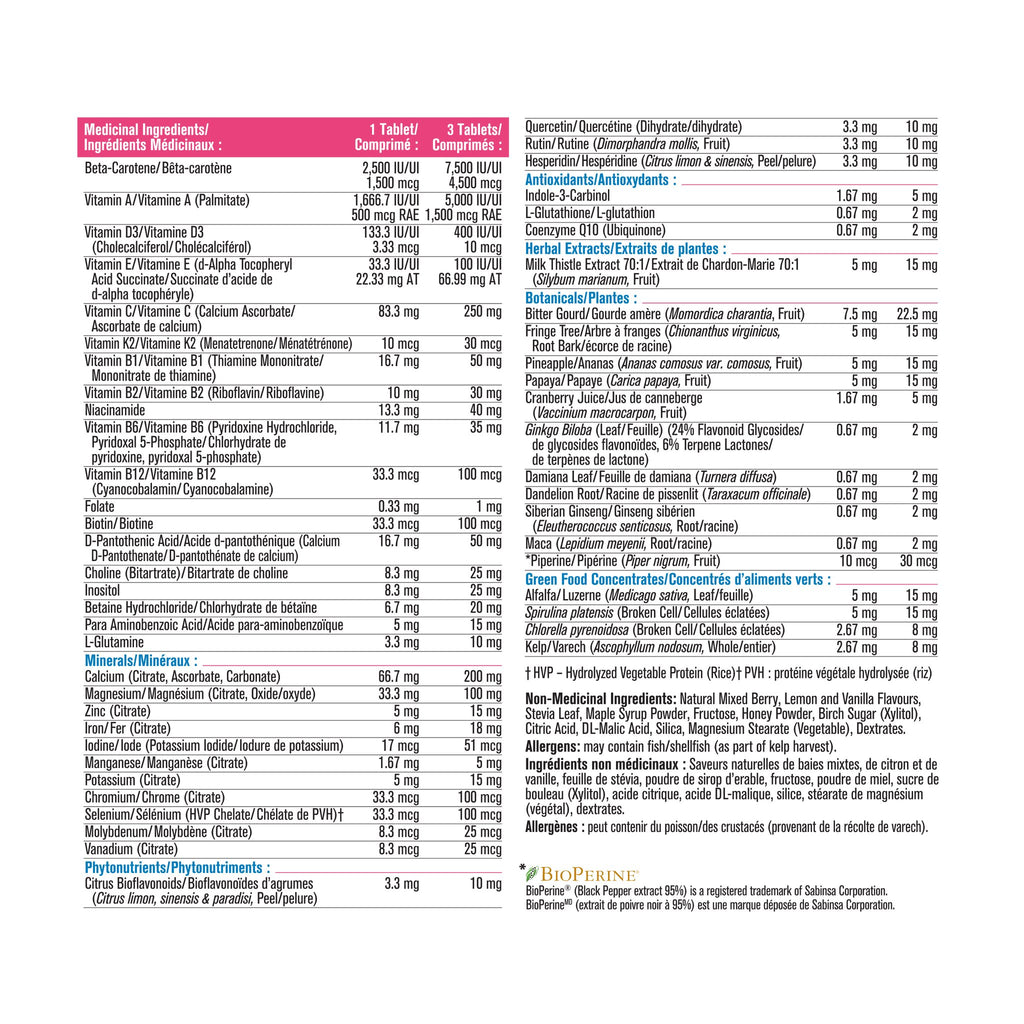 ---
---
Progressive Chewable Multi for Adult Women is the perfect choice for anyone who has trouble swallowing pills. It addresses the nutritional needs of a modern lifestyle in a delicious Natural Citrus flavour.
Botanicals
Contains
1 Capsule
Vitamins
Beta-Carotene
2,500 IU (1500 mcg)
Vitamin A (Palmitate)
1,666.7 IU (500 mcg)
Vitamin D3 (Cholecalciferol)
133.3 IU (3.33 mcg)
Vitamin E (d-Alpha Tocopheryl Acid Succinate)
33.3 IU (22.31 mg AT)
Vitamin C (Calcium Ascorbate)
83.3 mg
Vitamin K2 (Menatetrenone)
10 mcg
Vitamin B1 (Thiamine Hydrochloride)
16.7 mg
Vitamin B2 (Riboflavin)
10 mg
Niacinamide
13.3 mg
Vitamin B6 (Pyridoxine Hydrochloride, Pyridoxal-5'-Phosphate)
11.7 mg
Vitamin B12 (Cyanocobalamin)
33.3 mcg
Folate
0.33 mg
Biotin
33.3 mcg
D-Pantothenic Acid (Calcium D-Pantothenate)
16.7 mg
Choline Bitartrate
8.3 mg
Inositol
8.3 mg
Betaine Hydrochloride
6.7 mg
PABA
5 mg
L-Glutamine
3.3 mg

Minerals

Calcium (Citrate, Ascorbate, Carbonate)
66.7 mg
Magnesium (Citrate, Oxide)
33.3 mg
Zinc (Picolinste, Citrate)
5 mg
Iron
6 mg
Iodine (Potassium Iodine)
17 mcg
Manganese (Citrate)
1.67 mg
Potassium (Citrate)
5 mg
Chromium (Citrate)
33.3 mcg
Selenium (HVP Chelate)†
33.3 mcg
Molybdenum (Citrate)
8.3 mcg
Vanadium (Citrate)
8.3 mcg

Phytonutrients

Citrus Bioflavonoids (Citrus limon, sinensis & paradisi, Peel)
3.3 mcg
Quercetin (Dimorphandra mollis, Seed)
3.3 mcg
Rutin (Dimorphandra mollis, Fruit)
3.3 mcg
Hesperidin (Citrus limon & sinensis, Fruit)
3.3 mcg

Antioxidants

Indole-3-Carbinol
1.67 mg
Coenzyme Q10 (Ubiquinone)
0.67 mg
L-Glutathione
0.67 mg

Herbal Extracts

Milk Thistle Extract 70:1 (Silybum marianum, Fruit)
5 mg
Green Tea Extract (50% Polyphenols)
2.67 mg
Bitter Gourd (Momordica charantia, Fruit)
7.5 mg
Fringe Tree (Chionanthus virginicaus, Root Bark)
5 mg
Pineapple (Ananas comosus var, comosus, Fruit)
5 mg
Papaya (Carica papaya, Fruit)
5 mg
Cranberry Juice (Vaccinium macrocarpon, Fruit)
1.67 mg
Ginkgo biloba (Leaf) (24% Flavonoid Glycosides, 6% Terpene Lactones)
0.67 mg
Damiana Leaf (Turnera diffusa)
0.67 mg
Dandelion Root (Taraxacum officianale)
0.67 mg
Siberian Ginseng (Eleutherococcus senticosus, Root)
0.67 mg
Maca (Lepidium meyenii, Root)
0.67 mg
Piperine (Piper nigrum, Fruit)
10 mcg

Green Food Concentrates

Alfalfa (Medicago sativa, Leaf)
5 mg
Chlorella pyrenoidosa (Broken Cell)
2.67 mg
Spirulina plantensis (Whole)
2.67 mg
Kelp (Ascophyllum nosodum, Whole)
2.67 mg
† HVP – Hydrolyzed Vegetable Protein (Rice)
Non-Medicinal Ingredients
Natural Mixed Berry, Lemon and Vanilla Flavours, Stevia Leaf, Maple Syrup Powder, Fructose, Honey Powder, Birch Sugar (Xylitol), Citric Acid, DL-Malic Acid, Silica, Magnesium Stearate (Vegetable), Dextrates.
Suggested Dose (Adults)
As a factor in the maintenance of good health, take 1 tablet with breakfast, lunch, and dinner for a total of 3 tablets per day. Take a few hours before or after taking other medications.
Cautions
Consult a health care practitioner prior to use if you are pregnant or breastfeeding, taking any other medications or natural health products; have cardiovascular disease, iron deficiency, a liver disorder or develop symptoms of liver trouble, a history of kidney stones, any type of acute infection; or for use beyond 12 weeks. Hypersensitivity has been known to occur; in which case, discontinue use. Do not use if you have high blood pressure, liver or gall bladder disorders and/or bowel obstruction, a history of systemic lupus erythmatosus; or if you are taking health products that affect blood coagulation as this may increase the risk of spontaneous bleeding.
---