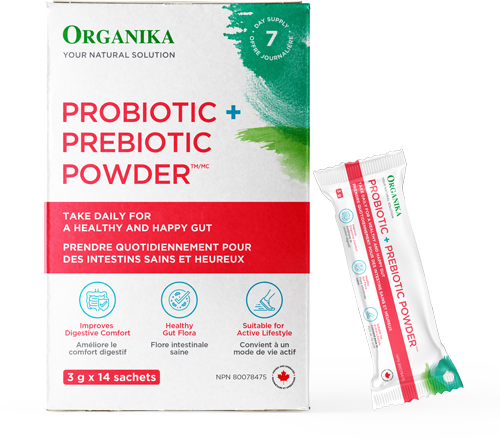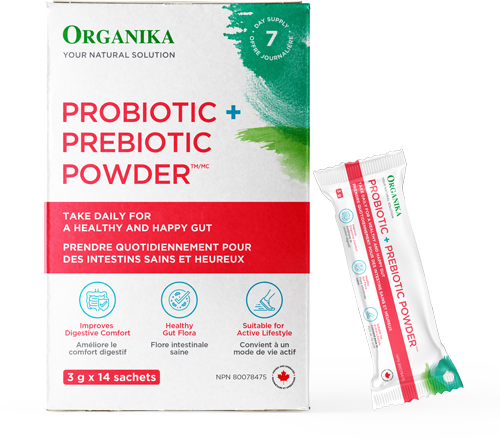 ---
---
Help your gut health flourish with Organika's Prebiotic + Probiotic Powder, a blend of four clinically proven probiotic strains and Actilight, a prebiotic fiber extracted from beetroot. With a lightly sweet and natural taste, Prebiotic + Probiotic powder is convenient and suitable for an active lifestyle.
Medicinal Ingredients - Each Sachet Contains:
Bifidobacterium animalis subsp. lactis (Whole Cell (SD-5220)) 100 Million CFU*
Lactobacillus acidophilus (Whole Cell (B-3208)) 100 Million CFU*
Bifidobacterium bifidum (Whole Cell (SD-5215)) 25 Million CFU*
Bifidobacterium longum subsp. longum (Whole Cell (SD-5588)) 25 Million CFU*
Actilight Prebiotic Fibre / FOS (Beta vulgaris) (Root) 2 500 mg
*Colony Forming Unit
Non-Medicinal Ingredients:
D-Fructose, Orange Flavour, Silicon Dioxide.
Empty 1 sachet onto your tongue. Let it melt. Swallow.
Take 2 times a day. If you are taking antibiotics, take 2-3 hours before or after. Take for a minimum of 6 weeks to see beneficial effects on mild functional bowel disorders.
---