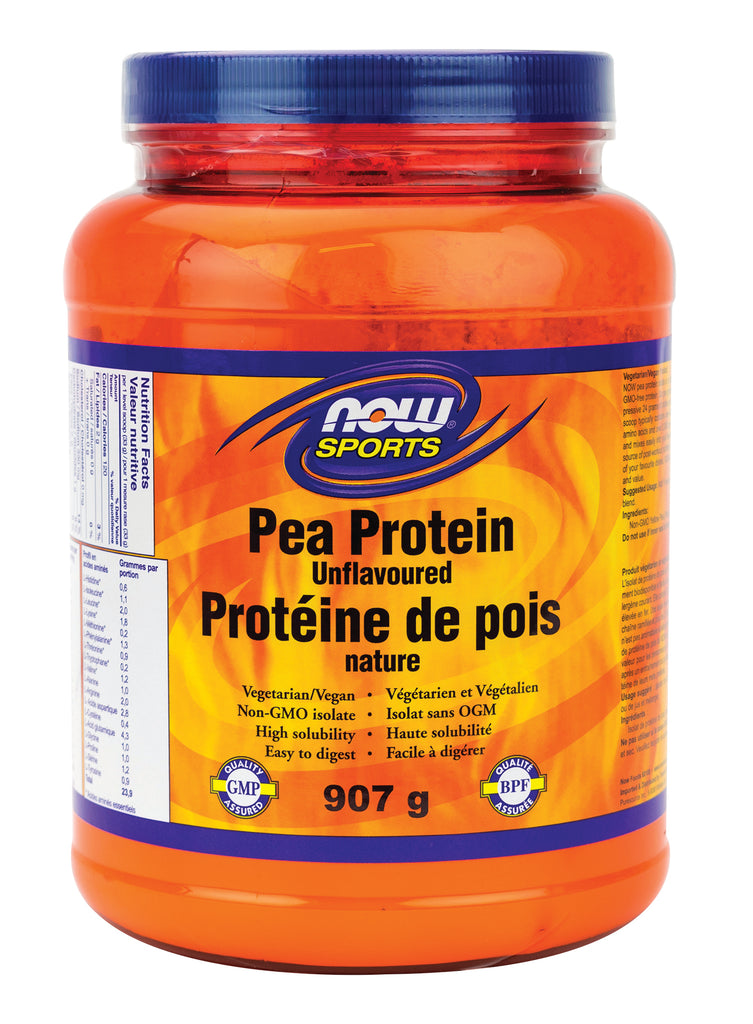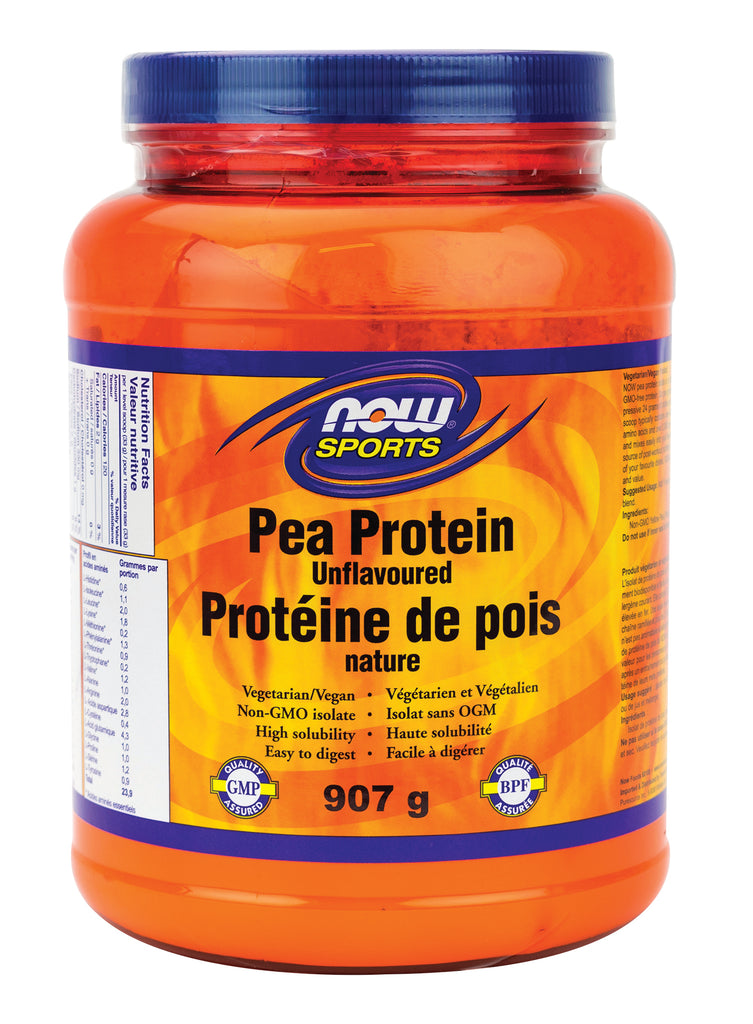 ---
---
Peas are well known for being a highly bioavailable protein. Additionally, they have no major allergens. Collectively, this makes pea protein an ideal source of post-workout nutrition for athletes who may have difficulty supplementing with other types of protein. NOW® Sports Pea Protein is a Non-GMO vegetable protein isolate that has 24 grams of easily-digested protein and is an excellent source of iron. Each 1 scoop (33 g) serving typically has over 4,200 mg of branched chain amino acids, and over 2,000 mg of L-Arginine. NOW® Sports Pea Protein is pure and natural, unflavoured, and mixes easily into your favourite beverages.
Nutrition Facts
Serving Size:
1 Level Scoop (33 g)
Amount per Serving
% Daily Value
* Percent Daily Values are based on 2,000 calorie diet.
Calories
120
 
Fat
2 g
3%
   Saturated Fat
0 g
0%
   + Trans Fat
0 g
 
Cholesterol
0 mg
0%
Sodium
330 mg
14%
Carbohydrate
1 g
1%
Dietary Fibre
0 g
0%
Sugars
0 g
 
Protein
24 g
 
Vitamin A
 
0%
Vitamin C
 
0%
Calcium
 
2%
Iron
 
35%
Ingredient: Ingredient:  Pure, Pea Protein Isolate [from yellow peas (Pisum sativum) (Non-GMO)].
Typical Amino Acid Amounts per Serving
L-Histidine* 0.6 g
L-Isoleucine* 1.1 g
L-Leucine* 2.0 g
L-Lysine* 1.8 g
L-Methionine* 0.2 g
L-Phenylalanine* 1.3 g
L-Threonine* 0.9 g
L-Tryptophan* 0.2 g
L-Valine* 1.2 g
L-Alanine 1.0 g
L-Arginine 2.0 g
L-Aspartic Acid 2.8 g
L-Cysteine 0.4 g
L-Glutamic Acid 4.3 g
L-Glycine 1.0 g
L-Proline 1.0 g
L-Serine 1.2 g
L-Tyrosine 0.9 g
Total 23.9 g

*Essential Amino Acids
Add 1 level scoop (33 g) daily to 8 oz. of cold water, juice, or your favourite beverage, and blend.

Store in a cool, dry place after opening. Please recycle container.
---