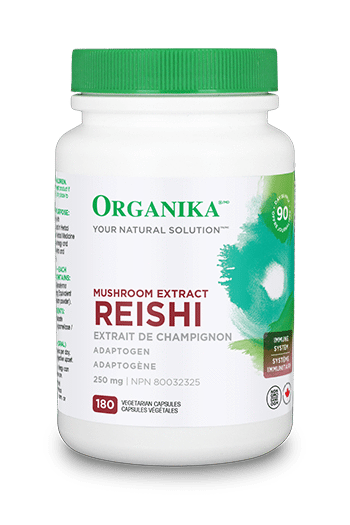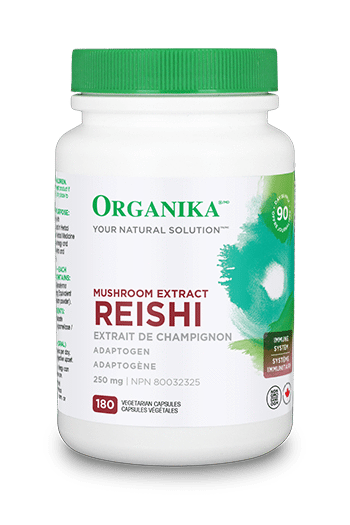 ---
---
The King of Mushrooms to the rescue! Reishi, known scientifically as Ganoderma lucidum, has been traditionally used for its medicinal properties for at least four thousand years in many Asian countries. There are countless modern scientific studies that have proven what traditional knowledge put into practice.
MEDICINAL INGREDIENT – EACH VEGETARIAN CAPSULE CONTAINS:
Reishi Mushroom 4:1 Extract (Ganoderma lucidum) (Whole fungus) 250 mg (Equivalent to 1000 mg dried Reishi Mushroom powder)
NON-MEDICINAL INGREDIENTS:
Brown Rice Flour
Magnesium Stearate
Hypromellose / Pullulan (Vegetarian Capsule)
RECOMMENDED DOSE – (ORAL) ADULTS ONLY:
Take 2 capsules per day with a glass of water. Take with a meal to avoid digestive upset.

DURATION OF USE: Use for a minimum of 4 weeks to see beneficial effects. For use beyond 3 months, consult your health care practitioner.
CAUTIONS:
Consult a health care practitioner prior to use if you are undergoing chemotherapy treatment; suffer from an immune disorder (e. g. Crohn's disease, myasthenia gravis, multiple sclerosis, rheumatoid arthritis, systemic lupus erythematosus, HIV / AIDS, etc.); or are taking immunosuppressants. Do not use if you are pregnant or breastfeeding. Hypersensitivity (allergy) has been known to occur; in which case, discontinue use. Irritated skin, nausea, and diarrhea have been reported; in which case, discontinue use.
---