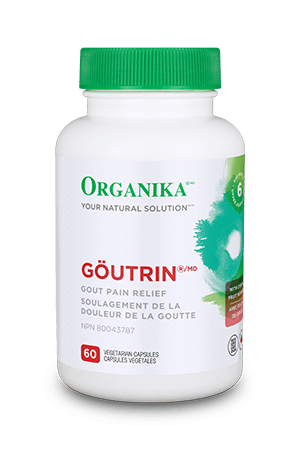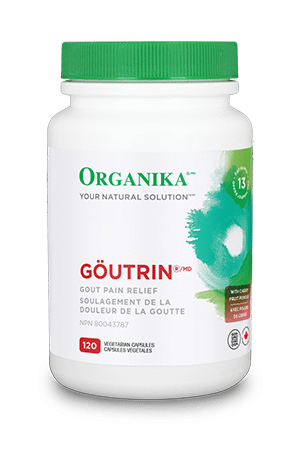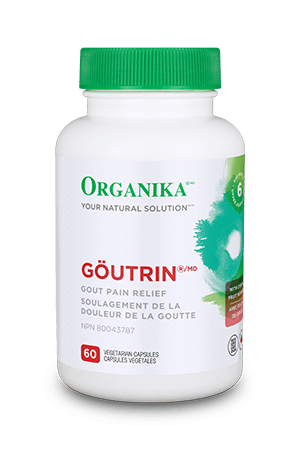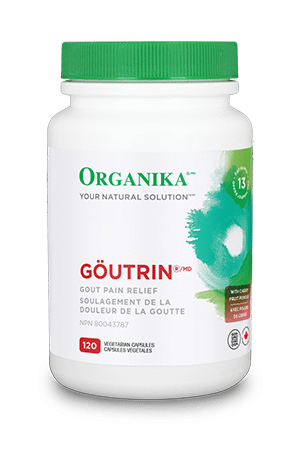 ---
---
Goutrin is a unique blend of ingredients that targets gout from all angles - from limiting uric acid production, to flushing the uric acid already in the body, to providing pain relief and preventing an attack.
MEDICINAL INGREDIENTS — EACH VEGETARIAN CAPSULE CONTAINS:
West Indian-Cherry Fruit Powder (Malpighia emarginata) 100 mg
Thyme Leaf Powder (Thymus vulgaris) 100 mg
Celery Seed Powder (Apium graveolens) 100 mg
Peppermint Leaf 15:1 Extract (Mentha piperita) 60 mg (Equivalent to 900 mg of Dried Peppermint Leaf)
Vitamin C (Calcium Ascorbate) 30 mg
NON-MEDICINAL INGREDIENTS: 
Microcrystalline Cellulose
Magnesium Stearate (Non-GMO Vegetable Source)
Maltodextrin
Hypromellose / Pullulan (Vegetarian Capsule)
RECOMMENDED DOSE — (ORAL) ADULTS ONLY: 
Take 3 capsules 3 times per day with meals.
CAUTIONS: 
Consult a health care practitioner if you have gallstones or anemia; or if symptoms persist or worsen. Consult a healthcare practitioner prior to use if you have diabetes or renal disorder, are suffering from Schizophrenia, and/or cardiovascular disease. Do not use if you are pregnant or breastfeeding; or are suffering from any bleeding disorders, seizures, gastrointestinal upset, headaches, dizziness, palpitations, constipation or allergic reactions. Do not use if you are allergic to plants in the Apiaceae / Umbelliferae family. Celery seed may increase UV light sensitivity, limit excess exposure to ultraviolet rays (e. g. sunbathing or tanning salons) for prolonged periods while using this product.
---