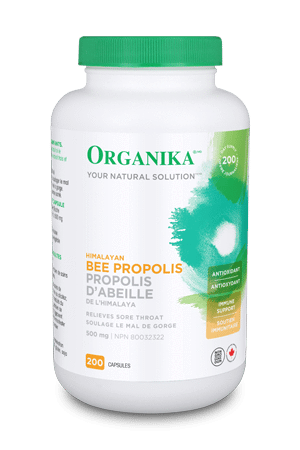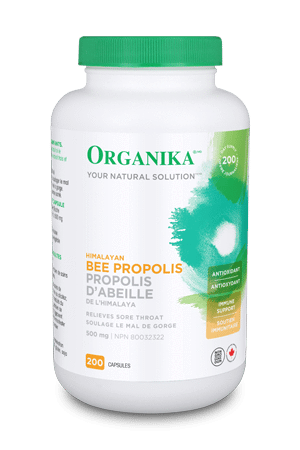 ---
---
Bee Propolis is a potent antimicrobial agent that bees use to protect their hives. We harnessed its power to create an immunity supporter that's second to none at fighting infections and inflammation, like sore throats. Sourced from the Himalayan region, one of the least polluted areas in the world.
MEDICINAL INGREDIENT – EACH CAPSULE CONTAINS:
Bee Propolis 2:1 Extract [Bee hive of the honey bee (Apis mellifera L.)] 250 mg (Equivalent to 500 mg of dried propolis powder)
NON-MEDICINAL INGREDIENTS:
Microcrystalline Cellulose
Magnesium Stearate
Maltodextrin, Gelatin (Capsule)
RECOMMENDED DOSE — (ORAL) ADULTS ONLY:
Take 1 capsule per day.
DURATION OF USE: 
Consult a health care practitioner for use beyond one month.
CAUTIONS: 
Consult a health care practitioner prior to use if you are pregnant or breastfeeding; or are allergic to bee products, poplar tree products, or balsam of Peru. Consult a health care practitioner if symptoms persist or worsen. Hypersensitivity, such as allergy, has been known to occur; in which case, discontinue use immediately.
---