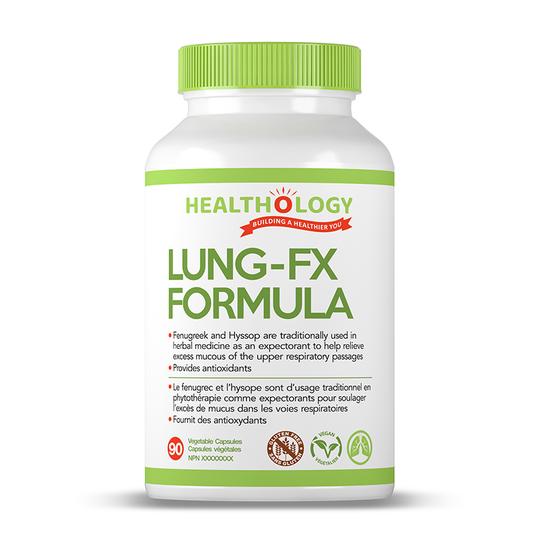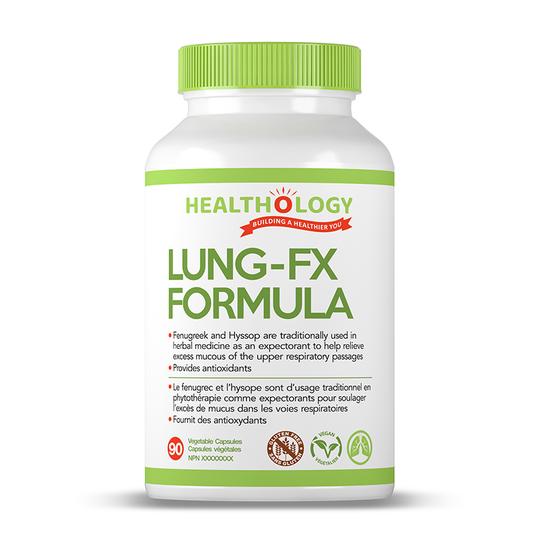 ---
---
LUNG-FX is beneficial for people who have chronic lung disease, asthma, and in smokers. LUNG-FX works by supporting the lungs' natural defense systems. It contains expectorant herbs to help you break down and expel mucous. It promotes detoxification to protect the lungs from damage caused by pollutants and toxins. It contains anti-inflammatories and antioxidants to heal and soothe damaged lung tissue. LUNG-FX provides targeted support to improve lung function and help you breathe more easily.
LUNG-FX improves lung health by supporting the lungs' natural detox processes. It helps to thin and expel mucus to clear toxins and other particles from the lungs. It provides anti-inflammatory and antioxidant support to soothe the airways, heal damage, and protect the lungs. LUNG-FX supports overall lung function and helps people with chronic lung conditions to breathe more deeply.
Each Capsule Contains
N-Acetyl-L-Cysteine200mg
Fenugreek Seed (Trigonella foenum-graecum) 10:1 Extract(QCE 1.5g) 150mg
Hyssop Herb Tops (Hyssopus officinalis) 10:1 Extract (QCE 1g) 100mg
Mullein Leaf (Verbascum thapsus) 20:1 Extract(QCE 2g) 100mg
Ginger (Zingiber Officinale – Rhizome) 4:1 Extract(QCE 400mg) 100mg
Reishi Mushroom (Ganoderma lucidum – fruiting body) 20:1 Extract (QCE 1g) 50mg
Non-Medicinal Ingredients: Vegetable Capsule Shell (Hypromellose), Oryza sativa (Rice) hull powder, maltodextrin.
Priority Allergens: None
Healthology does not use genetically modified ingredients. All ingredients are NON-GMO / GMO FREE.
Recommended Dose: Adults: Take 3 capsules with water and morning meal to avoid digestive upset.
---