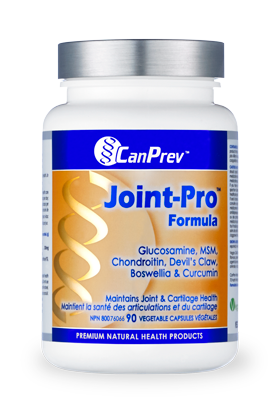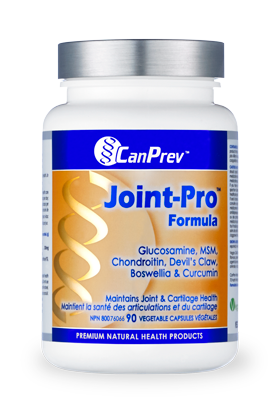 ---
---
Our joints make walking, bending, sitting and even writing possible. Keeping them flexible and fluid as we age is important to avoiding the pain and stiffness that can set in from overuse and inflammation from diseases like osteoarthritis.
CanPrev's Joint-Pro™ is a supportive therapy for maintaining joint and cartilage health. Joint-Pro™ contains glucosamine hydrochloride, a naturally occurring compound the body uses to make cartilage, bones, tendons, ligaments and the synovial fluid that cushions the joints. Glucosamine is especially effective when paired with chondroitin sulfate and a combination of herbs like boswellia and devil's claw.
Joint-Pro™ and Joint-Pro™ NEM are especially effective in relieving joint pain, they contain slightly different blends of ingredients depending on your needs. Joint-Pro™ may be best for those with allergies to eggs or egg byproducts.
Joint-Pro™ NEM may be a better choice for those who are not able to tolerate chondroitin and MSM (methylsulfonylmethane)
Ingredients
Each capsule contains
| | |
| --- | --- |
| Glucosamine HCI (shellfish) | 400mg |
| Methylsulfonylamethane (MSM) | 200mg |
| Chondroitin sulfate 90% (bovine) | 180mg |
| Devil's claw extract (harpagophytum procumbens) root tuber, 4:1 | 50mg |
| Boswellia serrata extract (45% boswellic acid) | 50mg |
| Curcumin (curcuma longa) | 48mg |
Non-Medicinal Ingredients
Vegetable-grade magnesium stearate, vegetable capsule.
Recommended Use
Joint-Pro Formula™ is a factor in maintaining joint health and helps to maintain healthy cartilage.
Directions
Adults - Take 2 capsules 2 times per day with food or as directed by a healthcare practitioner. Avoid taking at bedtime. Take for a minimum of 1 month to see beneficial effects.
Drug Interactions
Consult a health care practitioner prior to use if you are taking any medication including antiplatelet medication/blood thinners.
Cautions & Warnings
As with any natural health product, you should consult a healthcare practitioner on the use of this product, especially if symptoms worsen; and prior to use if you are pregnant or breastfeeding or have a medical condition including a bile duct obstruction, gallstones, allergies to shellfish, stomach ulcers, or excess stomach acid.
Side Effects
Hypersensitivity (e.g. allergy) has been known to occur and some people may experience mild gastrointestinal disturbances such as diarrhoea, abdominal pain, heartburn, nausea, and vomiting; in which case, discontinue use.
---