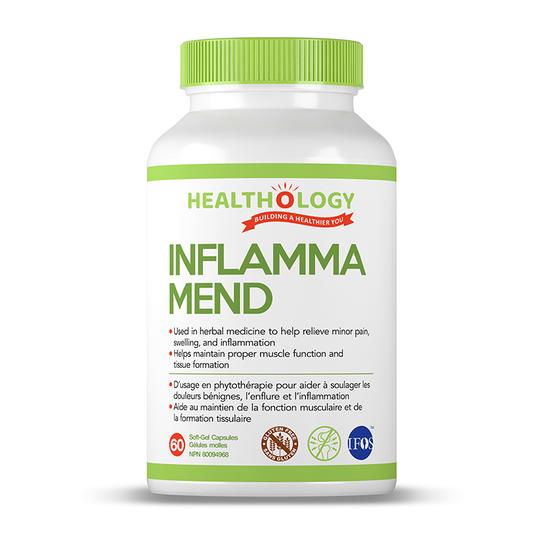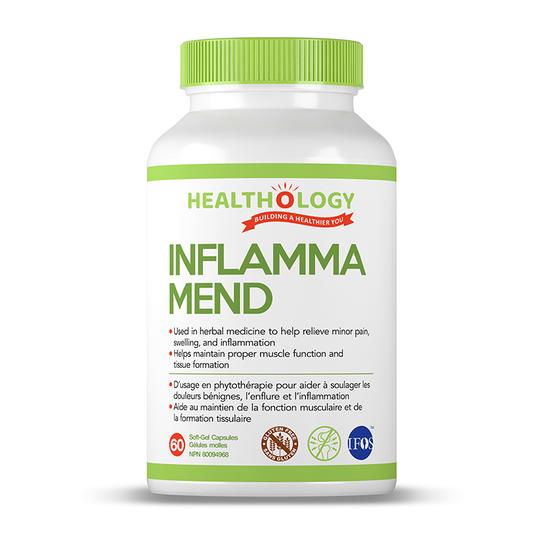 ---
---
INFLAMMA-MEND targets inflammation by reducing pain and swelling, increasing the production of anti-inflammatory mediators, and preventing the production of pro-inflammatory cells. The individual components of INFLAMMA-MEND work synergistically to provide support for both short and long-term exposures to damage by targeting the underlying mechanisms of inflammation.
Each Soft-Gel Contains
Fish Oil (From Clupeidae, Engraulidae, Scombridae - whole) 870 mg
     EPA (Eicosapentaenoic acid) 500 mg
     DHA (Docosahexaenoic acid) 70 mg
Curcumin (Curcuma longa, rhizome) 100 mg
Stem Bromelain (Ananas comosus var. comosus - stem) 13.67mg / 240,000 FCC PU
Elemental Magnesium (From magnesium citrate, magnesium oxide) 50 mg
Lipase (Triacylglycerol lipase, Rhizopus oryzae – whole) 2.5 mg / 16.67 FCC LU
Non-Medicinal Ingredients: Fish Gelatin Shell (fish gelatin, glycerin, purified water, carob powder), yellow beeswax, sunflower lecithin, non-gmo mixed tocopherols (from sunflower), orange essential oil, sunflower oil, ascorbyl palmitate, tapioca-dextrin, non-gmo canola oil, rosemary leaf extract, citric acid.
Priority Allergens: This product contains fish.
Healthology does not use genetically modified ingredients. All ingredients are NON-GMO / GMO FREE.
Recommended Dose: Adults: Take 2 capsules once daily with food and water. Swallow whole, do not chew or crush.
Duration Of Use: Consult a health care practitioner for prolonged use.
---