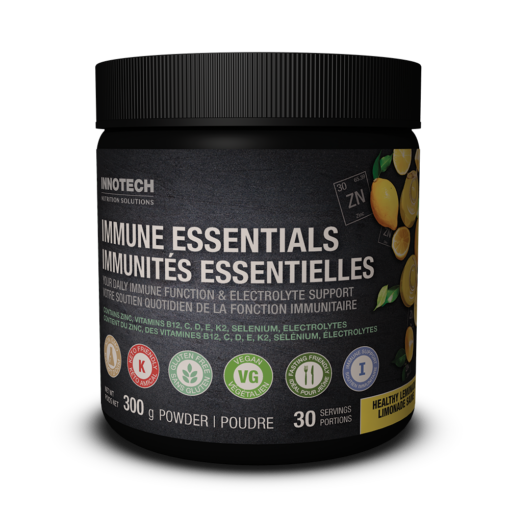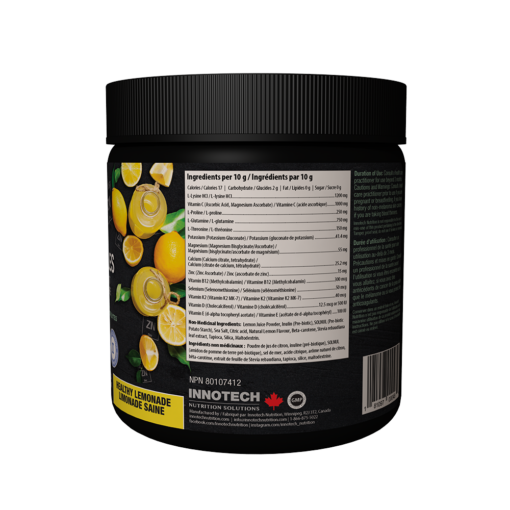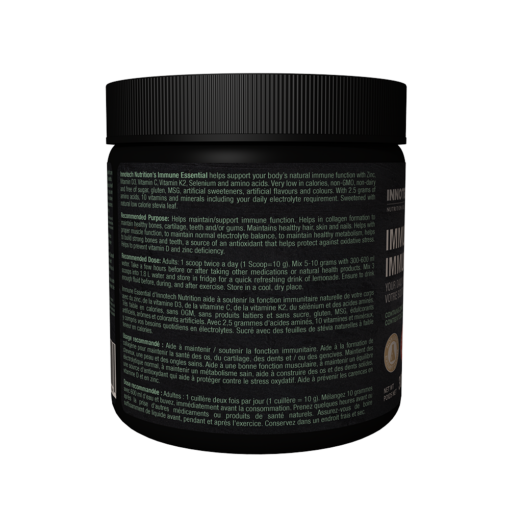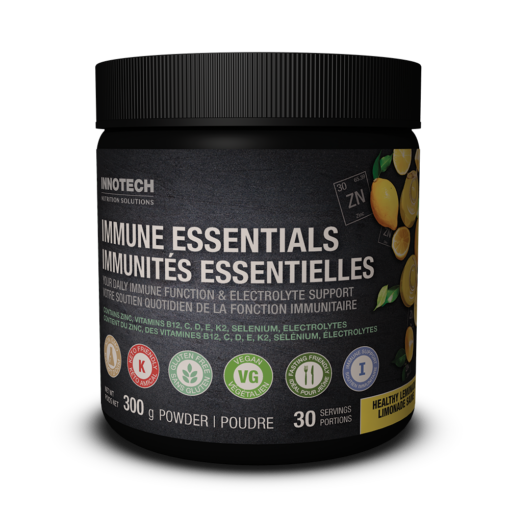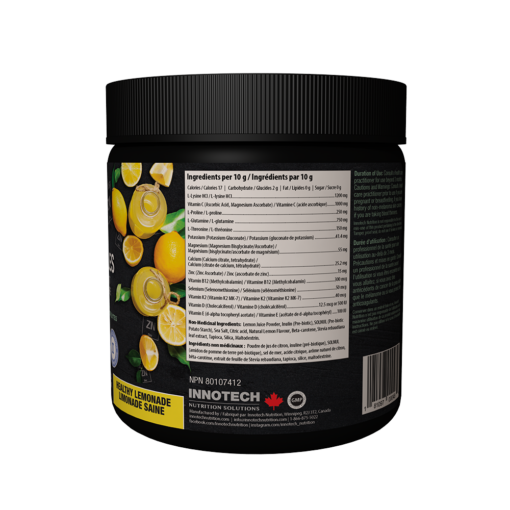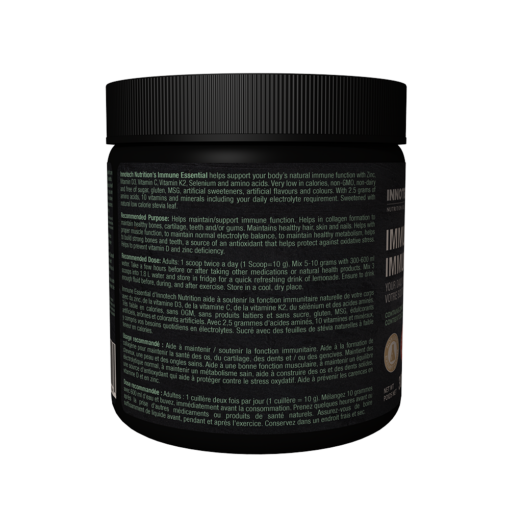 ---
---
Innotech Nutrition Immune Essentials helps support your body's natural immune function with Zinc, Vitamin D3, Vitamin C, Vitamin K2, Vitamin B12, Vitamin E, Magnesium, Potassium, Selenium and fermented amino acids. Very low in calories, vegan friendly, non-GMO, non-dairy and free of sugar, gluten, MSG, artificial sweeteners, artificial flavours and colours. With 2.5 grams of amino acids, 10 vitamins and minerals including your daily electrolyte requirement. Sweetened with natural low calorie stevia leaf. Each jar makes 18 litres of healthy sugar free lemonade. Enjoy!
Ingredients per 10 g (1 scoop) Calories 17 | Carbohydrate 2 g | Fat 0 g | Sugar 0 g | Sodium 60 mg |
L-Lysine HCl 1200 mg, Vitamin C (Ascorbic Acid, Magnesium Ascorbate) 1000 mg, L-Proline 250 mg, L-Glutamine 750 mg, L-Threonine 150 mg, Potassium (Potassium Gluconate) 41.4 mg, Magnesium (Magnesium Bisglycinate/Ascorbate) 55 mg, Calcium (Calcium citrate, tetrahydrate) 25.2 mg, Zinc (Zinc Ascorbate) 15 mg, Vitamin B12 (Methylcobalamin) 300 mcg, Selenium (Selenomethionine) 50 mcg, Vitamin K2 (Vitamin K2 MK-7) 40 mcg, Vitamin D (Cholecalciferol) 12.5 mcg or 500 IU, Vitamin E (d-alpha tocopheryl acetate) 100 IU, Non-Medicinal Ingredients: Lemon Juice Powder, Fructooligosaccharides (Pre-biotic), SOLNUL (Pre-biotic Potato Starch), Sea Salt (60 mg Sodium), Citric acid, Natural Lemon Flavour, Beta-carotene, Stevia rebaudiana leaf extract, Tapioca, Silica, Maltodextrin (Non-GMO, Less than 1%).
Recommended Dose: 1 scoop twice a day (1 Scoop=10 g). Mix 5-10 grams with 300-600 ml water. Take a few hours before or after taking other medications or natural health products. Mix 3 scoops into 1.8 L water and store in fridge for a quick refreshing drink of lemonade. Also, enjoy as your daily hot beverage. Ensure to drink enough fluid before, during, and after exercise. Store in a cool, dry place.
---