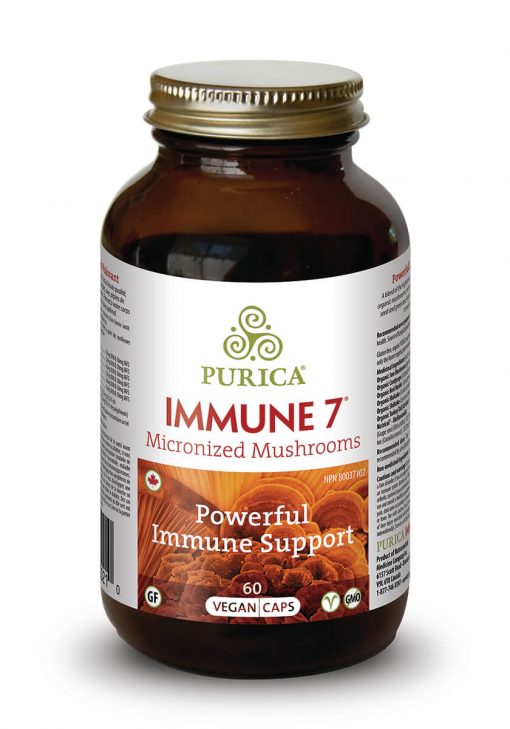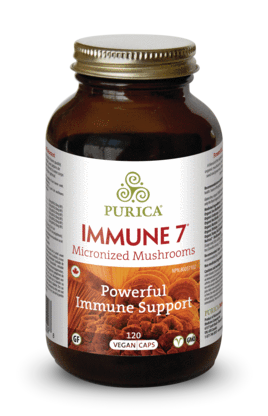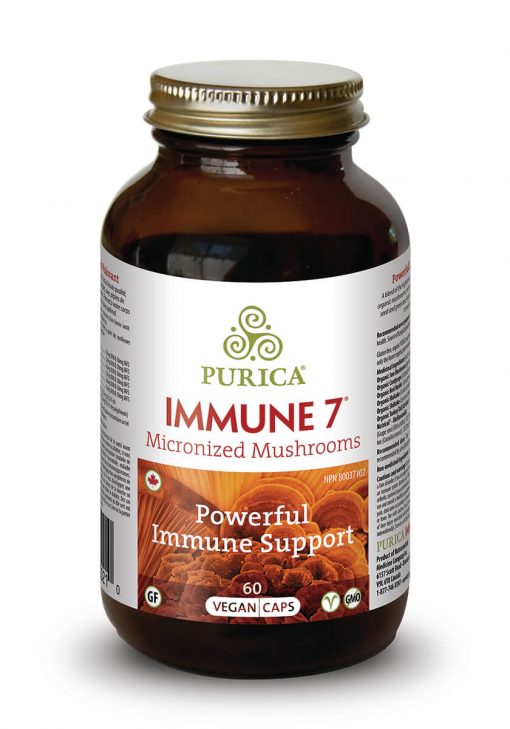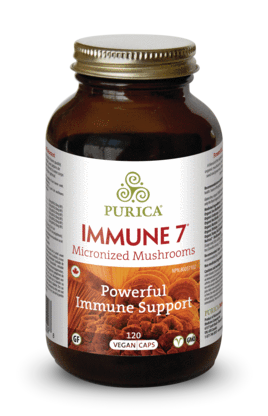 ---
---
The components of this high quality formulation have been shown in numerous studies to significantly strengthen the immune response. A robust immune system helps overcome sickness and promotes optimal health. Immune 7® is a potent—yet safe—dietary supplement that may be used alone, or in combination with mainstream treatments.
Immune 7® is one of the most comprehensive immunomodulating formulas available today. Our strictly controlled organic methods of mushroom cultivation ensure that our products are of the highest possible quality. The end result requires no irradiation, is always GMO-free, and far exceeds the original potency.
Each capsule contains 325 mg of Immune Assist,™ composed of organic extracts and micronized organic full spectrum mycelia and fruiting bodies of the following mushrooms. Cultured on organic plant materials in a pure environment to maximize polysaccharide content and absorbability.
Medicinal ingredients (per capsules):
Sun Mushroom (Agaricus blazei)
3.8mg IAM* & 50mg IAFS*
Cordycept™ (proprietary HEAACordyceps sinensis)
3.8mg IAM* & 50mg IAFS*
Maitake(Grifola frondosa)
3.8mg IAM* & 50mg IAFS*
Shiitake Mushroom(Lentinus edodes)
3.8mg IAM* & 50mg IAFS*
Turkey Tail(Coriolus versicolor)
3.8mg IAM* & 50mg IAFS*
Red Reishi(Ganoderma lucidum)
3.8mg IAM* & 50mg IAFS*
Nutricol® – Bioflavonoids
[Grape seed (Vitis vinifera), 50.0 mg, 95.0% Proanthocyanidins and decaffeinated green tea (Camellia sinensis), 50.0 mg, 95.0% Polyphenols]
Non-medicinal ingredients: hypromellose.
Recommended dose:
Take 1 to 3 capsules per day for immune use or as recommended by a healthcare professional. Take with food.
---