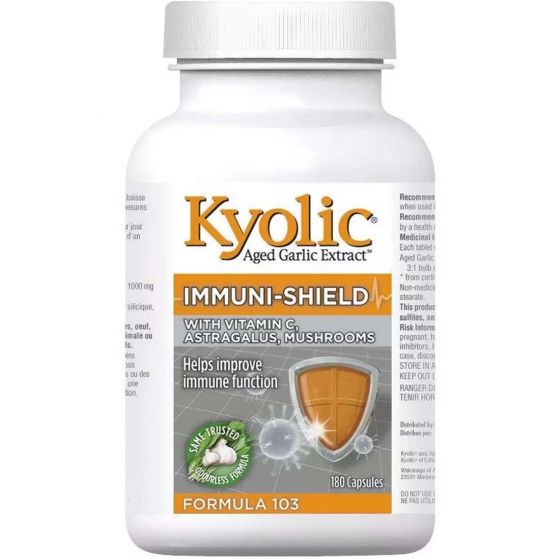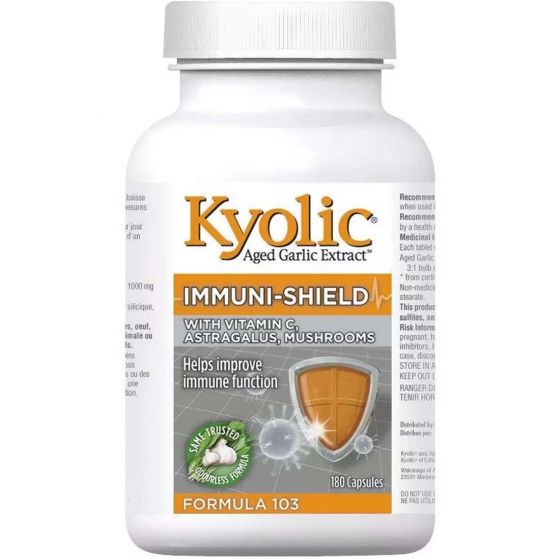 ---
---
This combination of vitamins, mushrooms, and herbs helps to support healthy immune function.
Kyolic Aged Garlic Extract™ begins with 100% organically grown garlic from California. It is then aged to perfection in a unique extraction process to eliminate odour and create beneficial compounds found only in Kyolic.
Aged Garlic Extract powder (Allium sativum*) 3:1 bulb extract (660 mg dried equivalent) 220mg, Vitamin C (calcium ascorbate) 59.2mg Mushroom Blend 75mg [shiitake (Lentinula edodes) body, mycelia 27.0mg, maitake (Grifola frondosa) body 13.5mg, poria (Poria cocos) body 13.5mg, reishi (Ganoderma lucidum) mycelia 13.5mg, agaricus (Agaricus blazie) body 7.5mg, Astragalus (Astragalus membranaceous) root 50mg], Oregano (Origanum vulgare) leaf 50mg Olive (Olea europaea) leaf (STD to 18% oleuropein) 40mg, Zinc (zinc amino acid chelate) 0.7mg * from certified organic garlic
Non-medicinal ingredients: Gelatin, maltodextrin, magnesium stearate
Adults: Take 2 capsules twice daily. For prolonged use, consult a health care practitioner.
---