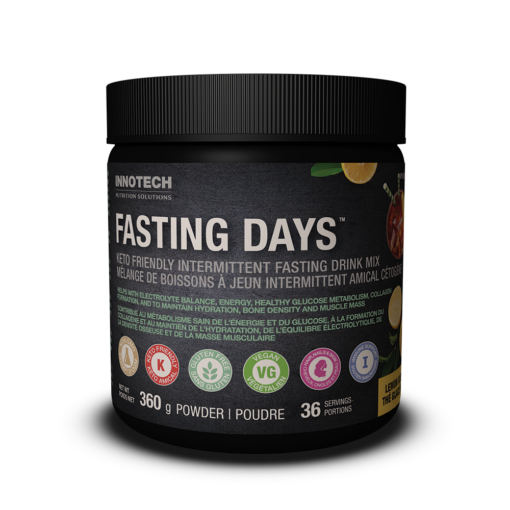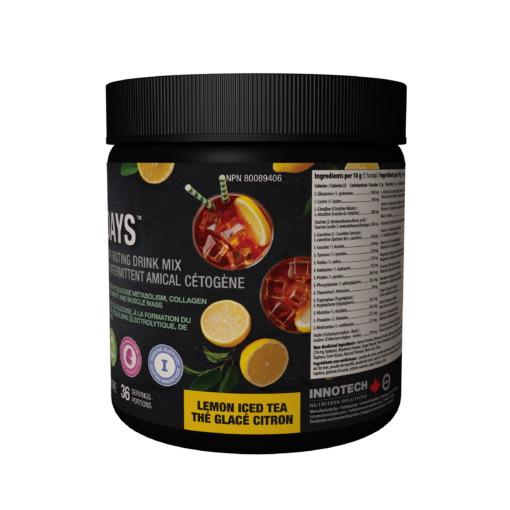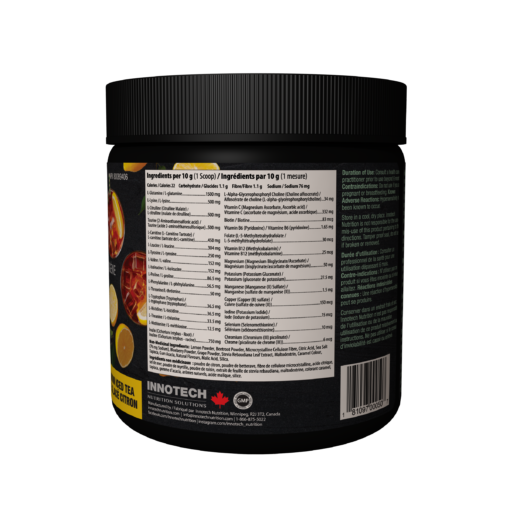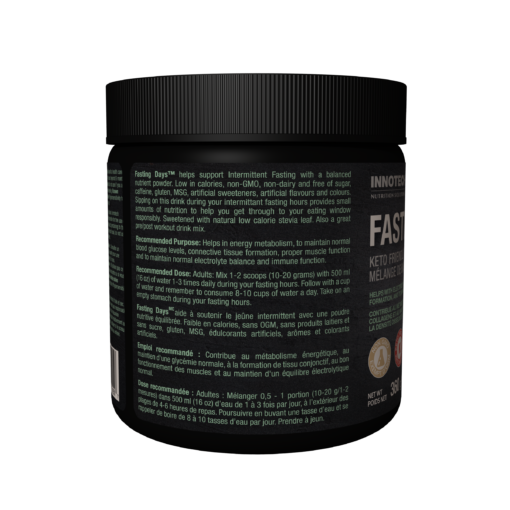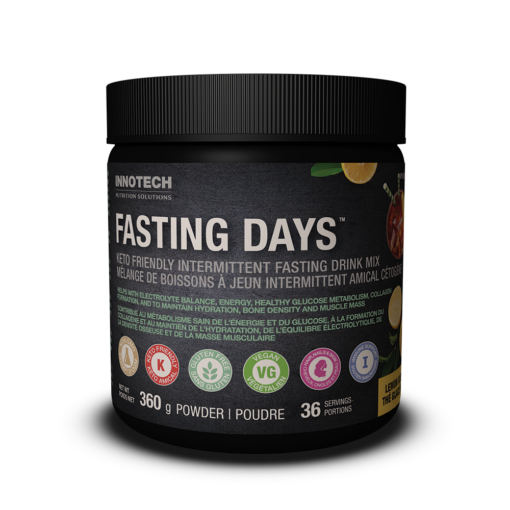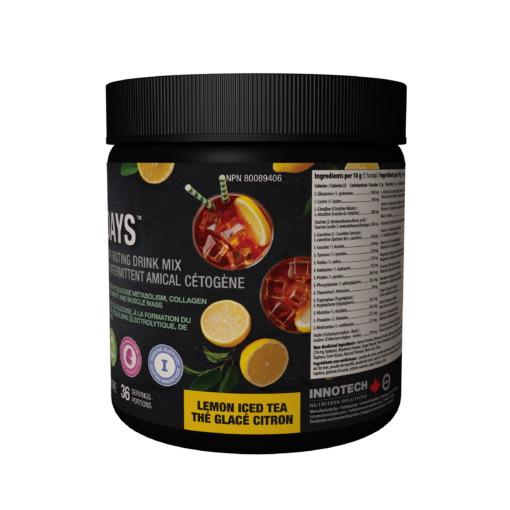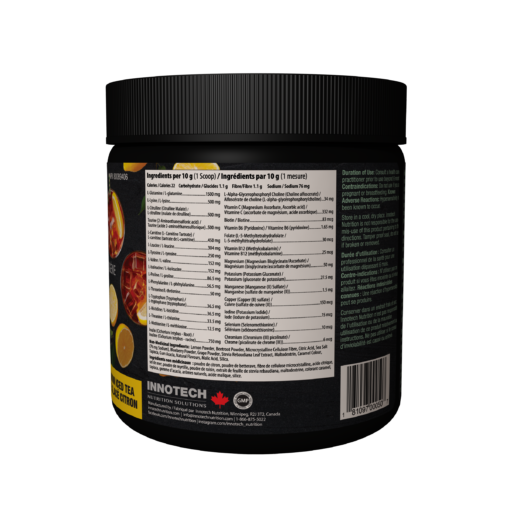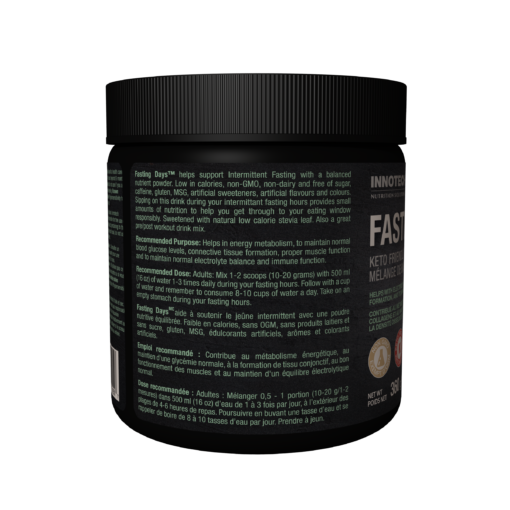 ---
---
Fasting Days™ Lemon Iced Tea is formulated by Innotech Nutrition to help support Intermittent Fasting with a balanced nutrient powder. Low in calories (Keto Friendly), non-GMO, non-dairy and free of sugar, gluten, MSG, artificial sweeteners, artificial flavours and colours. With 10 grams of amino acids, 13 vitamins and minerals including your daily electrolyte requirement. Drink this during your 18-20 hour fast.
Ingredients per 20 grams: L-Glutamine 3000 mg, L-Lysine 1000 mg, L-Citrulline (Citrulline Malate) 1000 mg, Taurine (2-Aminoethanesulfonic acid) 1000 mg, L-Carnitine (L- Carnitine Tartrate) 900 mg, L-Leucine 608 mg, L-Tyrosine 500 mg, L-Valine 304 mg, L-Isoleucine 304 mg, L-Proline 173 mg, L-Phenylalanine 113 mg, L-Threonine 100 mg, L-Tryptophan (Tryptophan) 73 mg, L-Histidine 73 mg, L-Theanine 67 mg, L-Methionine 25 mg, Inulin (Cichorium intybus – Root) 1500 mg, L-Alpha-Glycerophosphoryl Choline (Choline alfoscerate) 67 mg, Vitamin C (Magnesium Ascorbate, Ascorbic acid) 665 mg, Biotin / Biotine 166 mcg, Vitamin B6 (Pyridoxine) 3.3 mg, Folate (L-5-Methyltetrahydrafolate 60 mcg, Vitamin B12 (Methylcobalamin) 50 mcg, Magnesium (Magnesium Bisglycinate/Ascorbate) 100 mg, Potassium (Potassium Gluconate) 55 mg, Manganese (Manganese (II) Sulfate) 3 mg, Copper (Copper (II) sulfate) 300 mcg, Iodine (Potassium Iodide) 30 mcg, Selenium (Selenomethionine) 20 mcg, Chromium (Chromium (III) picolinate) 12 mcg Non-Medicinal Ingredients: Lemon Powder, Beetroot Powder, Microcrystalline Cellulose Fiber, Citric Acid, Sea Salt (76 mg sodium), Blueberry Powder, Grape Powder, Stevia Rebaudiana Leaf Extract, Multodextrin, Caramel Colour, Tapioca, Gum Acacia, Natural Flavors, Malic Acid, Silica
Directions for use: Consume "Fasting Days" 1-3 times per day during your fasting hours. Mix 1-2 scoops (10-20 grams) with 16 oz (500ml) of water. Follow with a glass of water and remember to consume 8-10 glasses of water per day. 36 x 10 gram servings per container. $1.55 per 10 gram serving.
---