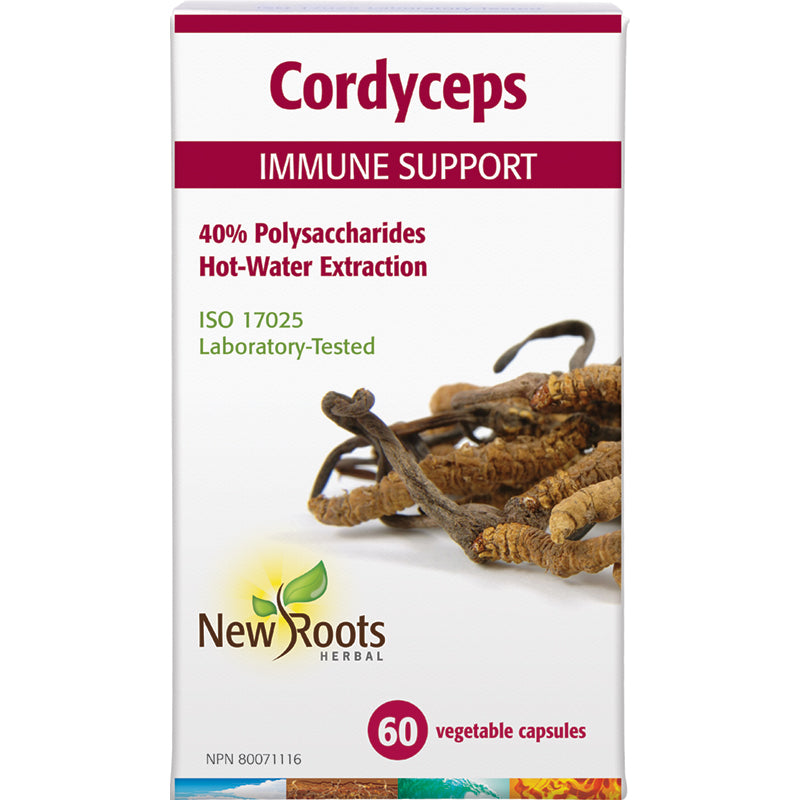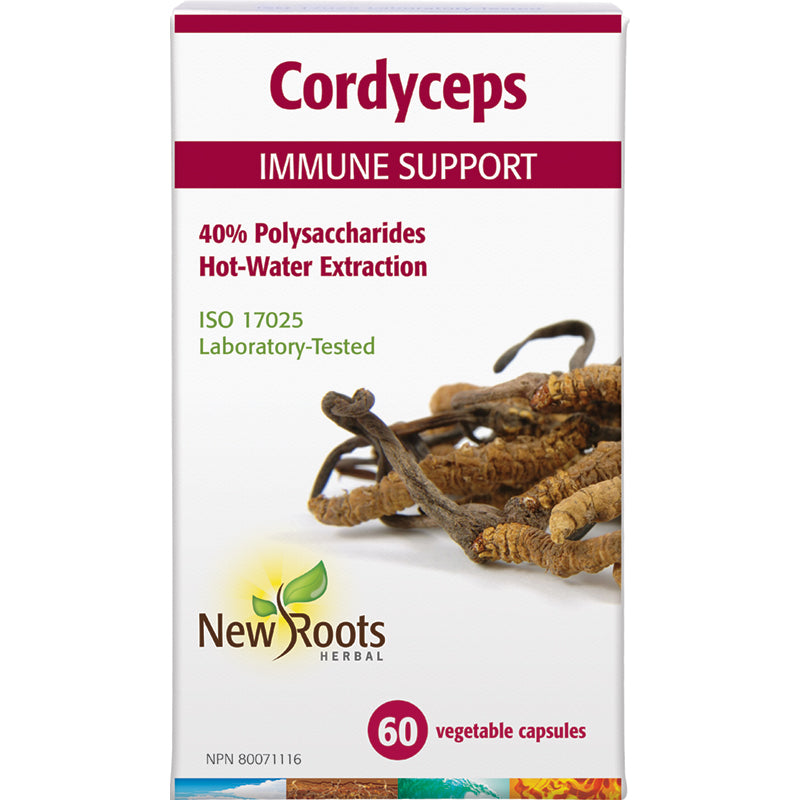 ---
---
This rare fungus thrives at the high altitudes of the Himalayan mountain range and Tibetan plateau. Cordyceps is unique among medicinal mushrooms: it grows from within a caterpillar host. Today, in order to meet increasing demands, cordyceps is grown in climate-controlled greenhouses within a grain-based substrate and yields the same profile of beneficial compounds as those grown in the wild.
New Roots Herbal's Cordyceps (Paecilomyces hepiali) is a hot water–extracted medicinal mushroom formula standardized to contain 40% polysaccharides (500 mg per capsule). Hot-water extraction is critical in obtaining a high-quality and effective mushroom product, and is the traditional Asian method of extraction. The mycelium contains polysaccharides which are bound by indigestible cell wall comprised of chitin; chitin must be dissolved through hot water in order to gently release the medicinal components. Conversely, grinding the mycelium or the mushroom may cause damage to the long-chain polysaccharides and fails to remove the indigestible chitin (fibre), limiting the amount of therapeutic constituents that can be fit per capsule. Standardization ensures that the final product contains a consistent amount of polysaccharides to allow delivery of a therapeutic dose.
Each vegetable capsule contains:
| | |
| --- | --- |
| Cordyceps mushroom (Paecilomyces hepiali) extract standardized to 40% polysaccharides | 500 mg |
Other ingredients: Vegetable magnesium stearate in a non‑GMO vegetable capsule composed of vegetable carbohydrate gum and purified water.
Adults: Take 1–2 capsules daily with food or as directed by your health-care practitioner.
---