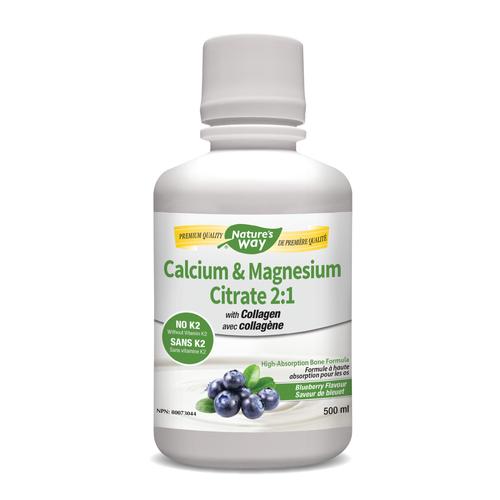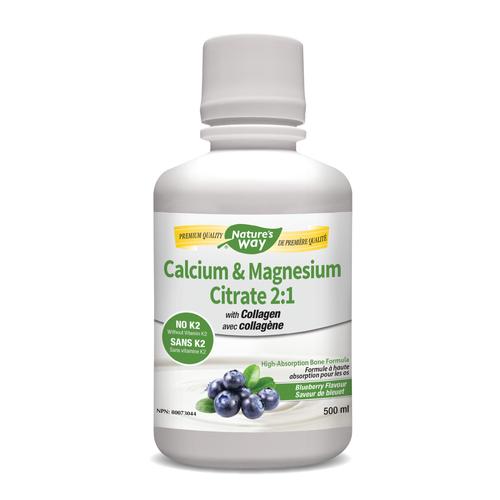 ---
---
Nature's Way Calcium & Magnesium is formulated in a 2:1 Calcium to Magnesium ratio in a great tasting blueberry formula. It also contains bone-friendly ingredients Collagen, Manganese, Boron and Vitamin D3. This formula contains no Vitamin K2 and won't interact with blood thinning medications. The liquid form is a convenient alternative to tablets or capsules to help support the maintenance of bones and teeth.
Medicinal Ingredients

Calcium (citrate)
600 mg
Magnesium (citrate)
300 mg
Hydrolyzed collagen (porcine)
200 mg
Manganese (gluconate)
7 mg
Boron (aspartate)
700 mcg
Vitamin D3 (cholecalciferol)
10 mcg

Non-Medicinal Ingredients

Purified water, sorbitol, citric acid, blueberry flavour, natural flavour, potassium sorbate, xanthan gum, Stevia rebaudiana leaf extract.
Directions
Adults take 1 tablespoon (15 ml) once per day. Take a few hours before or after taking other medications or natural health products.
---