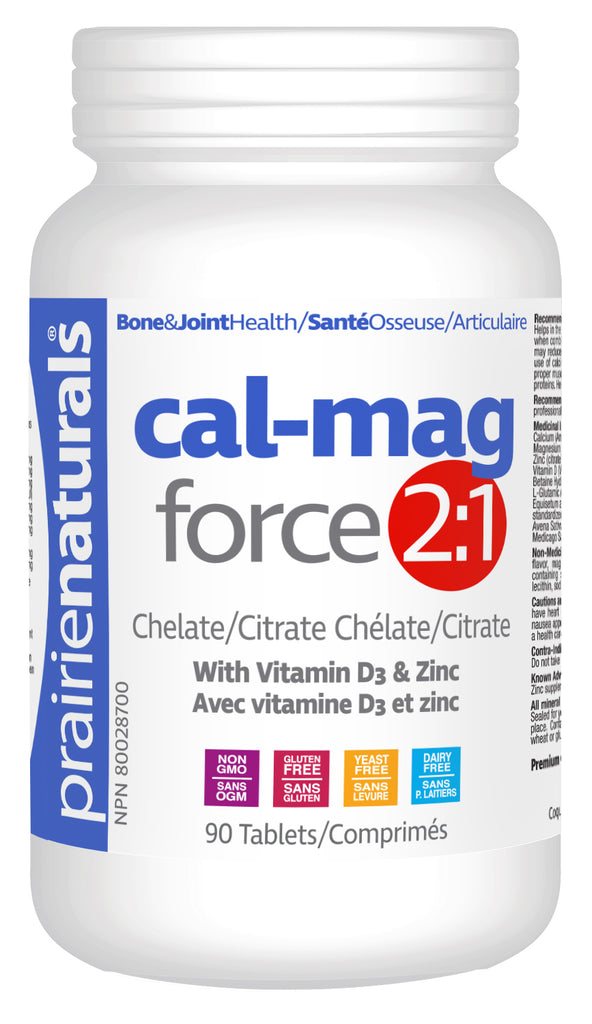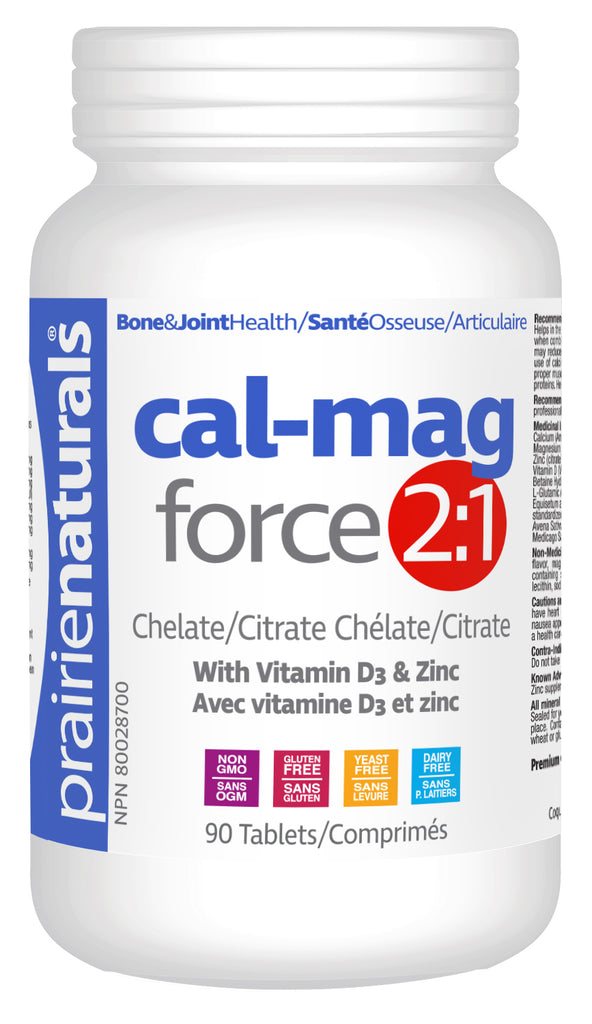 ---
---
Cal-Mag Force 2:1, Nutritional Support for your Bones!
Prairie Naturals Cal-Mag Force 2:1 provides an optimum potency ratio of calcium to magnesium with 400mg of calcium citrate/calcium chelate and 200mg of magnesium in addition to Vitamin D and zinc for optimal absorption.
This highly bioavailable formula is utilized easily by the body. Cal-Mag Force 2:1 tablets are an excellent choice for those at risk of osteoporosis or anyone wishing to "bone up" on bone-protecting nutrients. Taken at bedtime it can help to promote muscle relaxation and better sleep. Tested gluten-free. Contains NO soy, dairy, eggs, gluten, flavours, colours, preservatives, sweeteners.
Medicinal Ingredients: Each tablet contains:
Calcium (Amino Acid Chelate, Citrate) – 400 mg
Magnesium (Oxide, Citrate) – 200 mg
Zinc (citrate) – 6 mg
Vitamin D (Vitamin D3, Cholecalciferol) – 2.5 mcg (100 IU)
Betaine Hydrochloride – 30 mg
L-Glutamic Acid Hydrochloride – 30 mg
Equisetum arvense L ( Horsetail ) 10:1 Extract – 10 mg
standardized to 7% Silica, equivalent to 100 mg Horsetail
Avena Sativa, (Wild Oat, oatstraw) – 10 mg
Medicago Sativa (Alfalfa, leaf, organic) – 10 mg
Non-Medicinal: Microcrystalline cellulose, natural peppermint flavor, magnesium stearate, croscarmellose sodium and coating solution containing sodium carboxymethylcellulose, dextrin, dextrose monohydrate, lecithin, sodium citrate and water.
Recommended Dose (Adults): 1 tablet 2 times daily or as directed by a health professional.
---