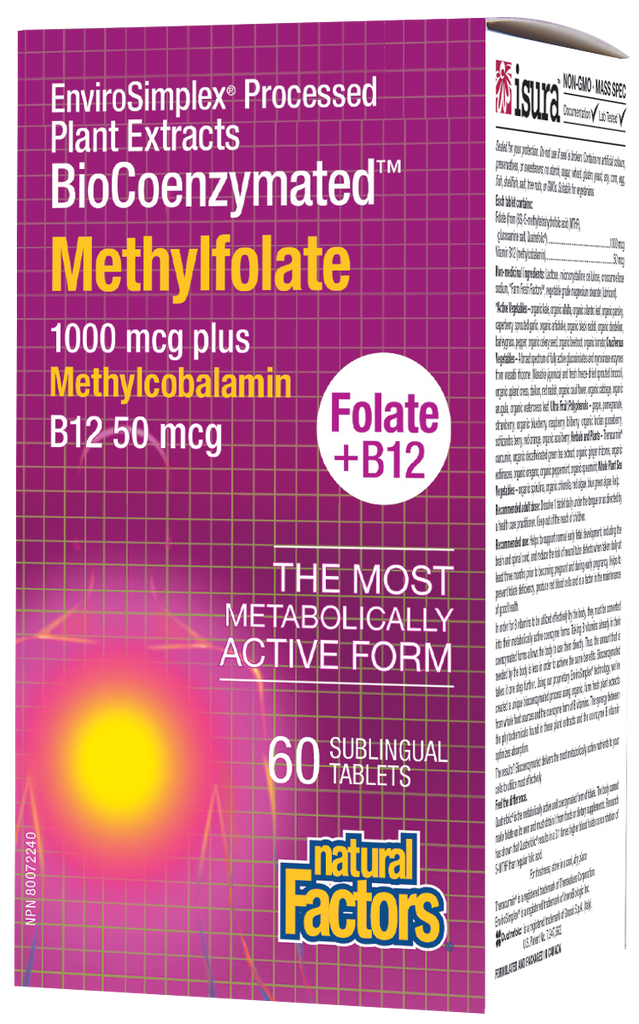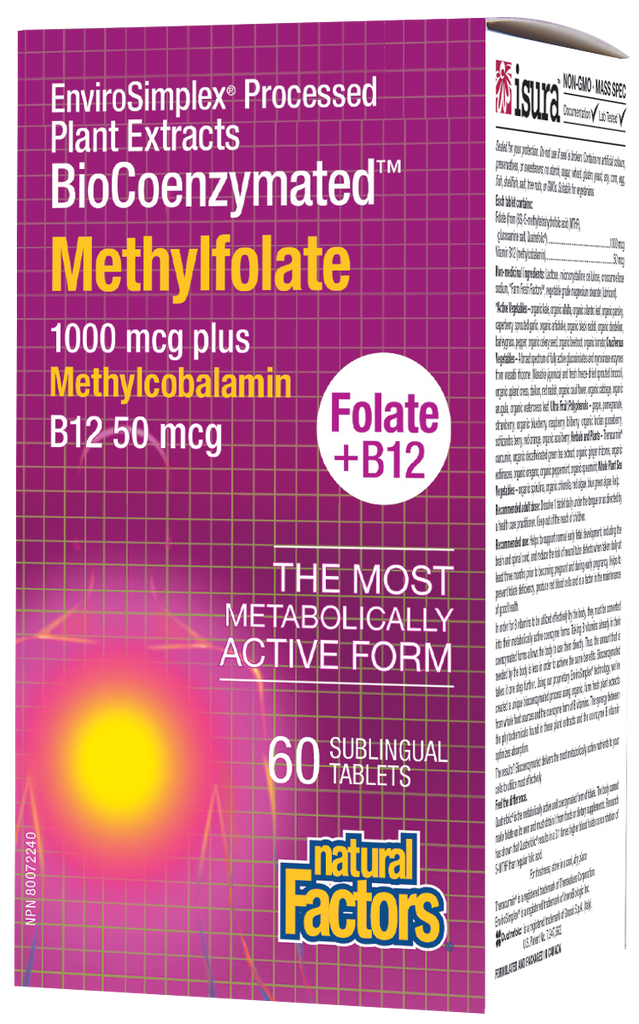 ---
---
Natural Factors Methylfolate Plus Methylcobalamin is an innovative one-a-day formula that provides 1000 mcg of folate and 50 mcg of vitamin B12 alongside Farm Fresh Factorsª Ð a bioenergetic blend of phytonutrients Ð to help prevent folate deficiency. Research has shown that Quatrefolic¨, the metabolically active and coenzymated form of folate, results in a 3.1 times higher blood folate concentration of 5-MTHF than regular folic acid. Feel the difference!
Medicinal Ingredients
| | |
| --- | --- |
| Each tablet contains: | |
| Folate (from (6S)-5-methyltetrahydrofolic acid (MTHF), glucosamine salt, Quatrefolic¨) | 1000 mcg |
| Vitamin B12 (methylcobalamin) | 50 mcg |
Non-Medicinal Ingredients
Lactose, microcrystalline cellulose, croscarmellose sodium,*Farm Fresh Factors
TM
, vegetable grade magnesium stearate (lubricant).
*Active Vegetables
Ð organic kale, organic alfalfa, organic cilantro leaf, organic parsley, caperberry, sprouted garlic, organic artichoke,organic black radish, organic dandelion, barleygrass, pepper, organic celery seed,organic beetroot, organic tomato;
Cruciferous Vegetables
Ð A broad spectrum of fully active glucosinolates and myrosinase enzymes from wasabi rhizome
(Wasabia japonica)
and fresh freeze-dried sprouted broccoli, organic upland cress, daikon, red radish, organic cauliflower,organic cabbage, organic arugula, organic watercress leaf;
Ultra Fruit Polyphenols
Ð grape, pomegranate, strawberry, organic blueberry, raspberry, bilberry, organic Indian gooseberry, schizandra berry, red orange, organic acai berry;
Herbals and Plants
Ð Theracurmin
¨
curcumin, organic decaffeinated green tea extract, organic ginger rhizome,organic echinacea, organic oregano, organic peppermint,organic spearmint;
Whole Plant Sea Vegetables
Ð organic spirulina, organic chlorella, red algae, blue green algae, kelp.

Helps to support normal early fetal development, including the brain and spinal cord, and reduce the risk of neural tube defects when taken daily at least three months prior to becoming pregnant and during early pregnancy. Helps to prevent folate deficiency, produce red blood cells and is a factor in the maintenance of good health.
---