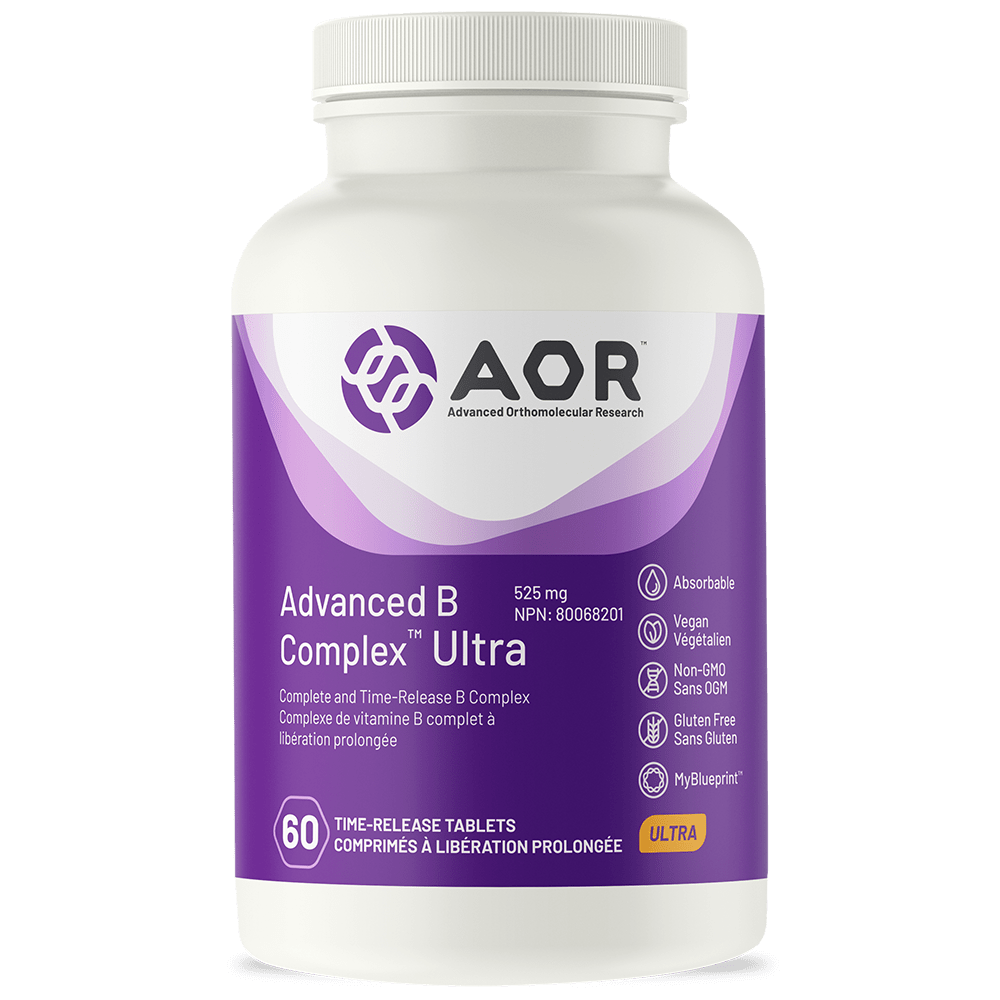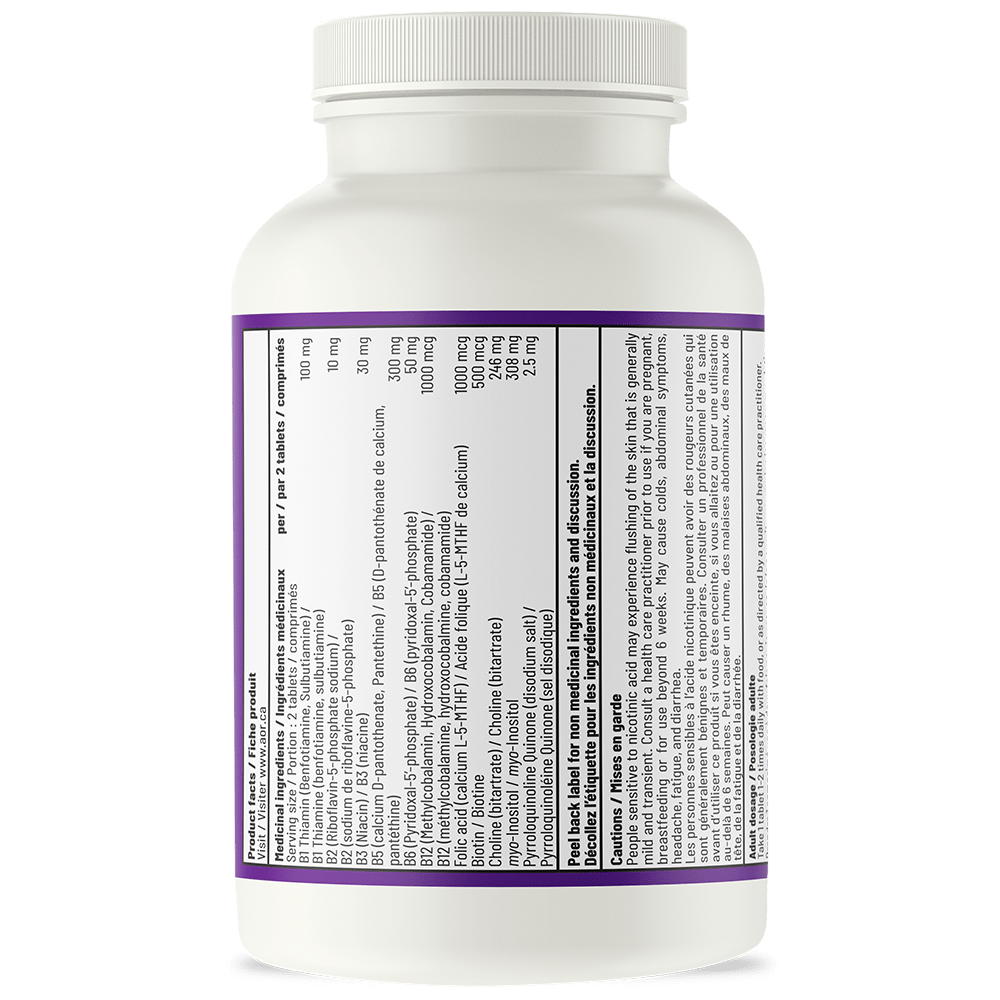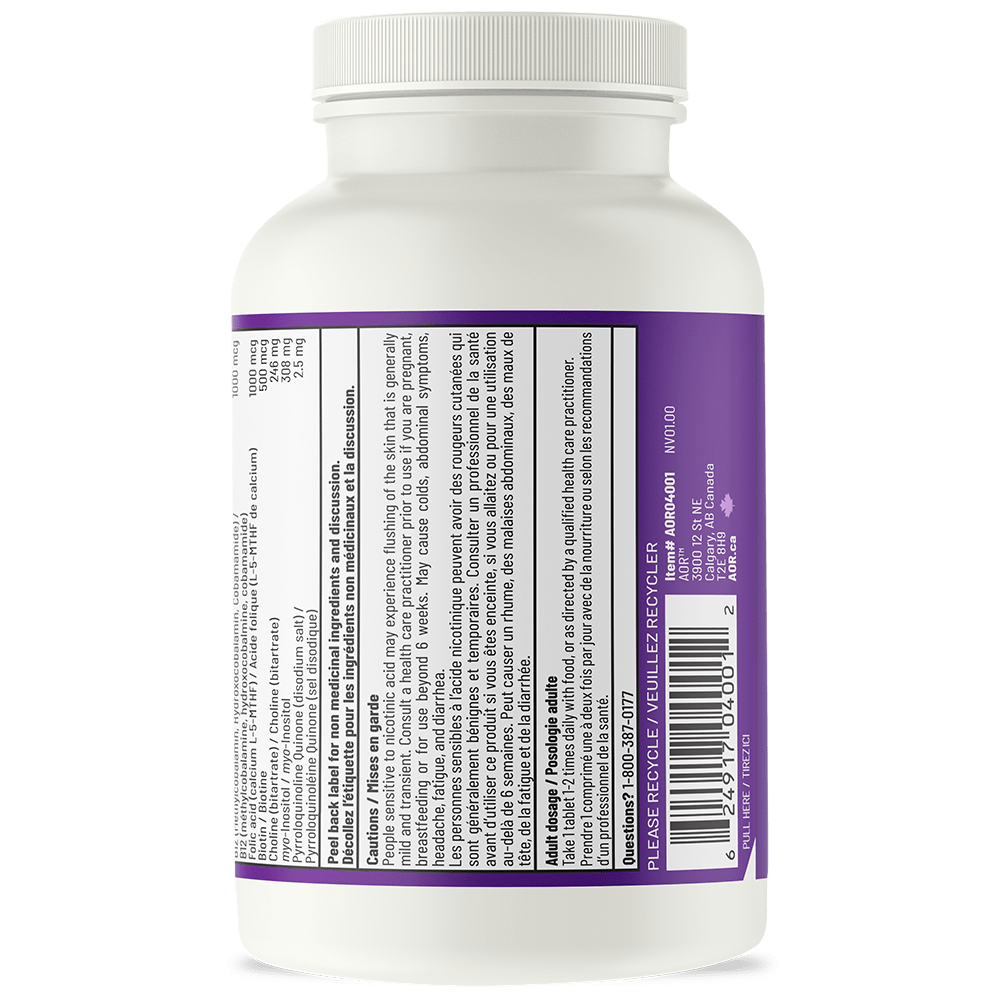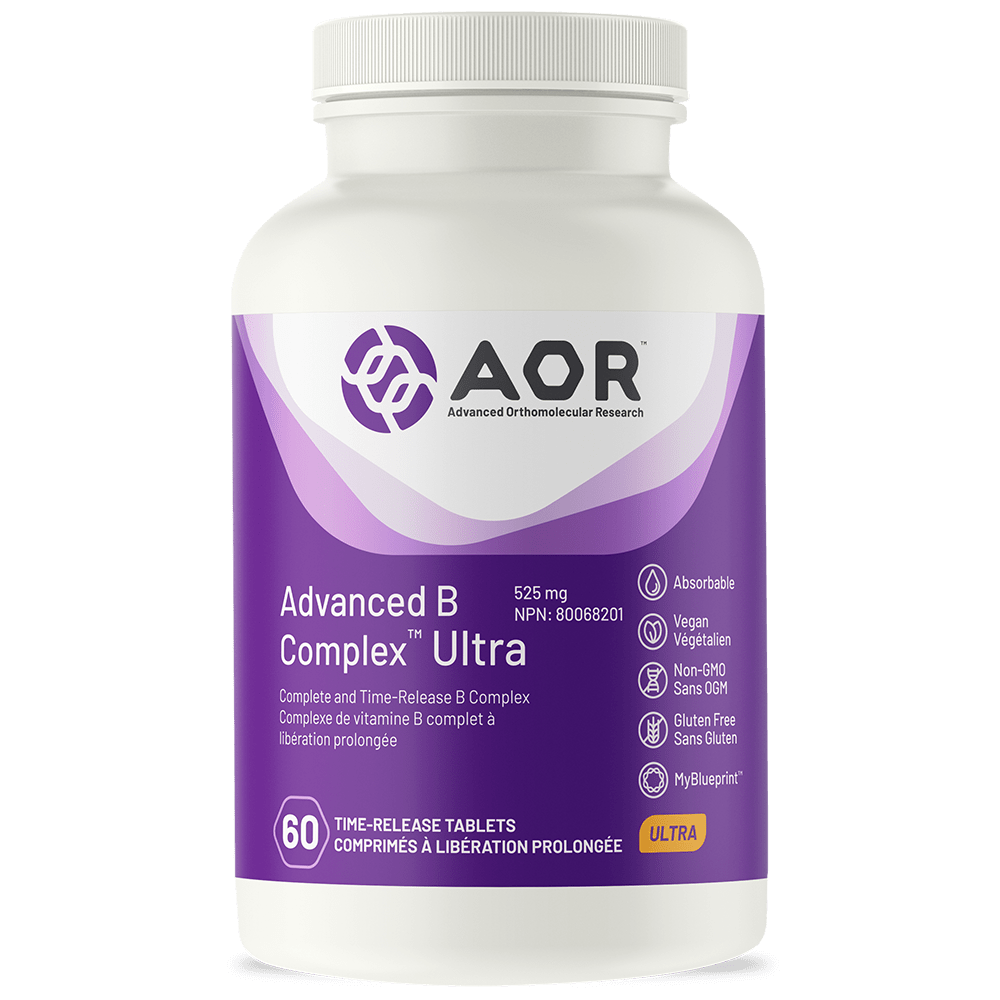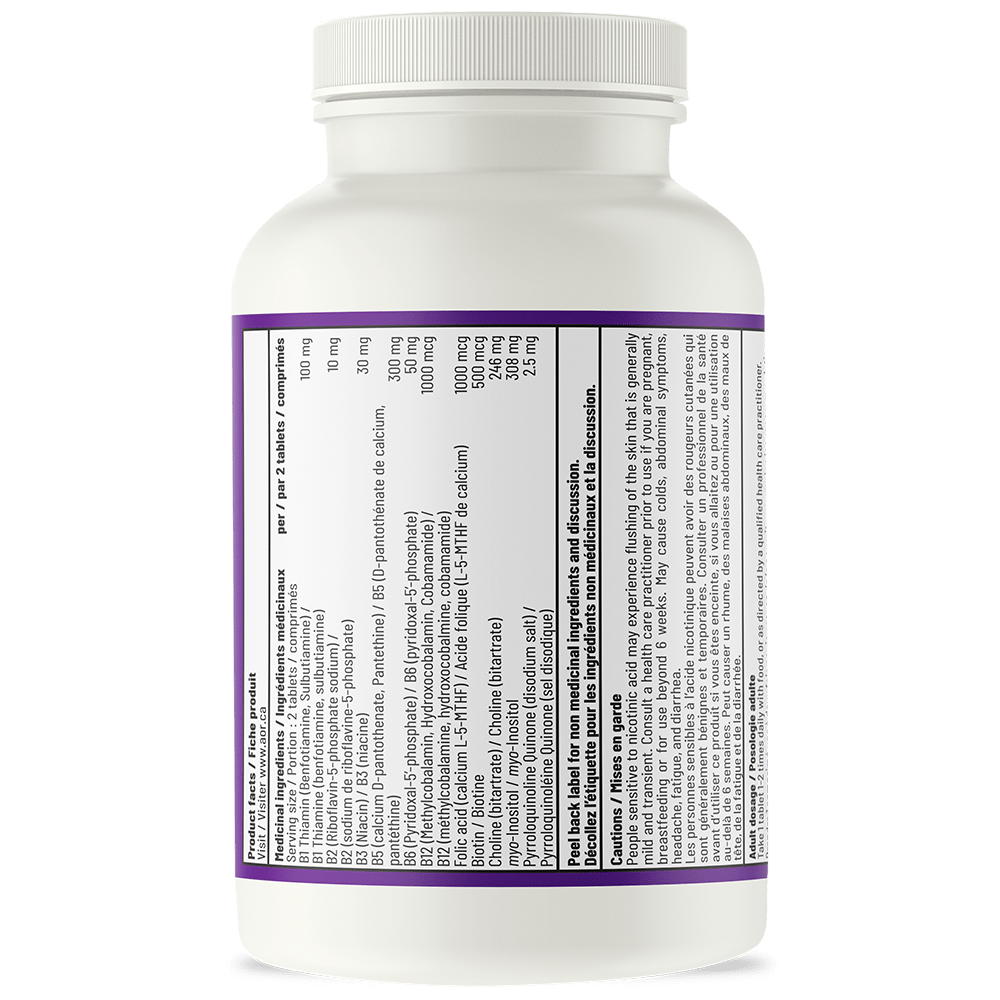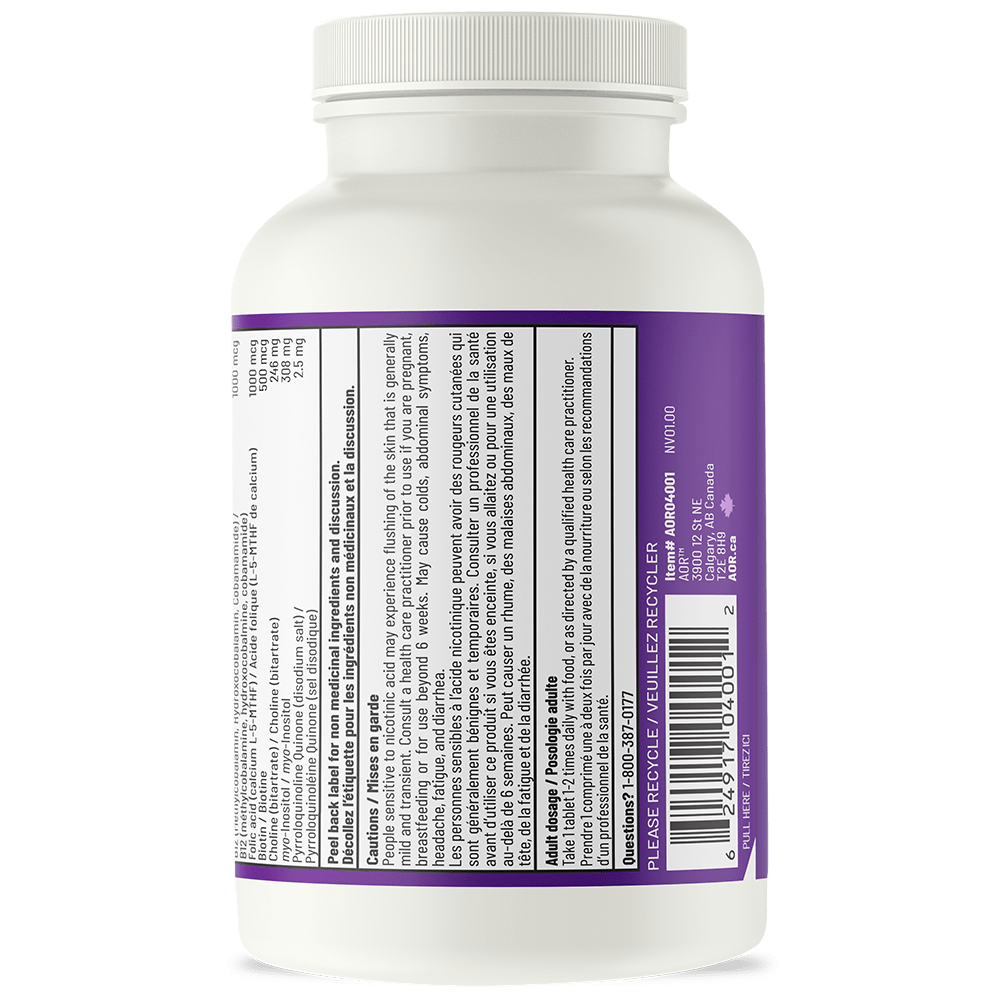 ---
---
Advanced B Complex Ultra is based on Advanced B Complex®, our award-winning favourite, with additional benefits for heart health, brain health, and energy. Advanced B Complex Ultra utilizes time-release technology to enhance absorption and provides the full spectrum of B vitamins, some of them in multiple forms, for superior efficacy in the body.
Advanced B Complex Ultra is formulated with niacin, the most active form of vitamin B3, and the most effective for heart health and cholesterol. It contains a safe dose of slow-release niacin to minimize the sensation of "flushing". Advanced B Complex Ultra is unique in that it also contains Pyrroloquinoline quinone (PQQ), a B-vitamin-like nutrient that helps support brain health.
Advanced B Complex Ultra is perfect for anyone looking to get beyond the standard benefits of B vitamins.
AOR Advantage
Advanced B Complex Ultra is the most cutting-edge and effective B complex available on the market. It offers unique and active forms of B vitamins which have additional health benefits not usually included with B complex supplements. For example, niacin is more effective for managing cholesterol levels and supporting heart health than synthetic B6. PQQ is a B-vitamin-like nutrient and antioxidant which has been shown to reduce oxidative damage and inflammation as well as improve mitochondrial function. Finally, Advanced B Complex Ultra provides three important forms of vitamin B12: Methylcobalamin, cobamamide, and hydroxocobalamin, each of which has an important function.
Serving Size:
Two Tablets
B1 Thiamine (Benfotiamine, Sulbutiamine)
100 mg
B2 (Riboflavin-5-phosphate sodium)
10 mg
B3 (Niacin)
30 mg
B5 (calcium D-pantothenate, Pantethine)
300 mg
B6 (Pyridoxal-5'-phosphate)
50 mg
B12 (Methylcobalamin, Hydroxocobalamin, Cobamamide)
1000 mcg
Folic acid (calcium L-5-MTHF)
1000 mcg
Biotin
500 mcg
Choline (bitartrate)
246 mg
myo-Inositol
308 mg
Pyrroloquinoline Quinone (disodium salt)
2.5 mg
Non-medicinal Ingredients: microcrystalline cellulose, sodium stearyl fumarate, hyprolose, xanthan gum, hypromellose, gum Arabic, glycerine, silicon dioxide, dicalcium phosphate.
Adult Dosage
Take one tablet one to two times daily with food, or as directed by a qualified health care practitioner.
---