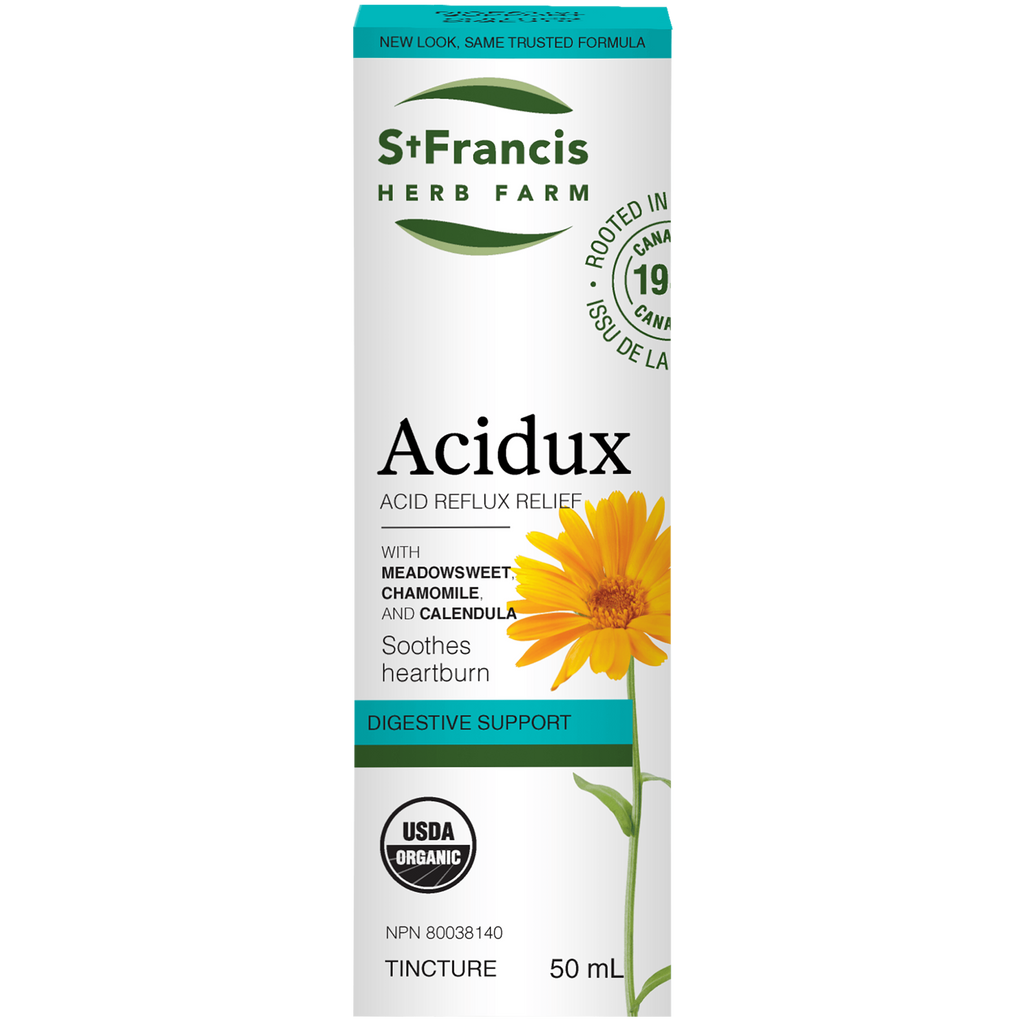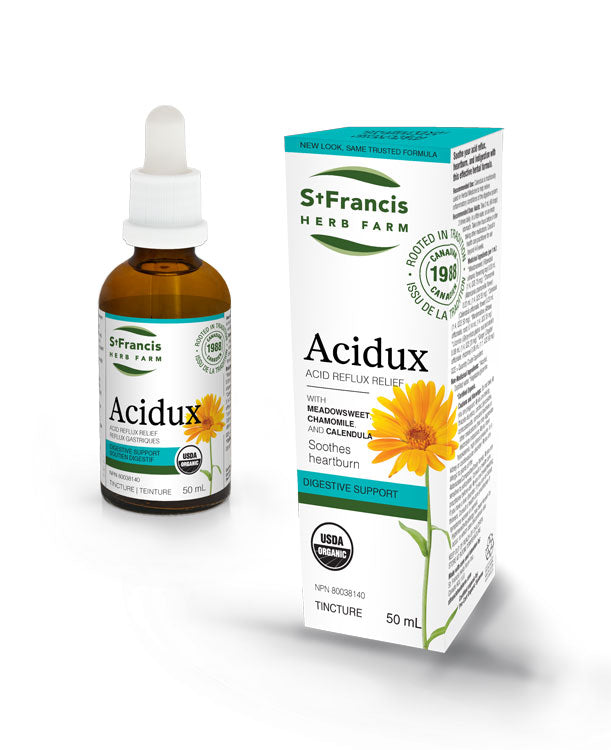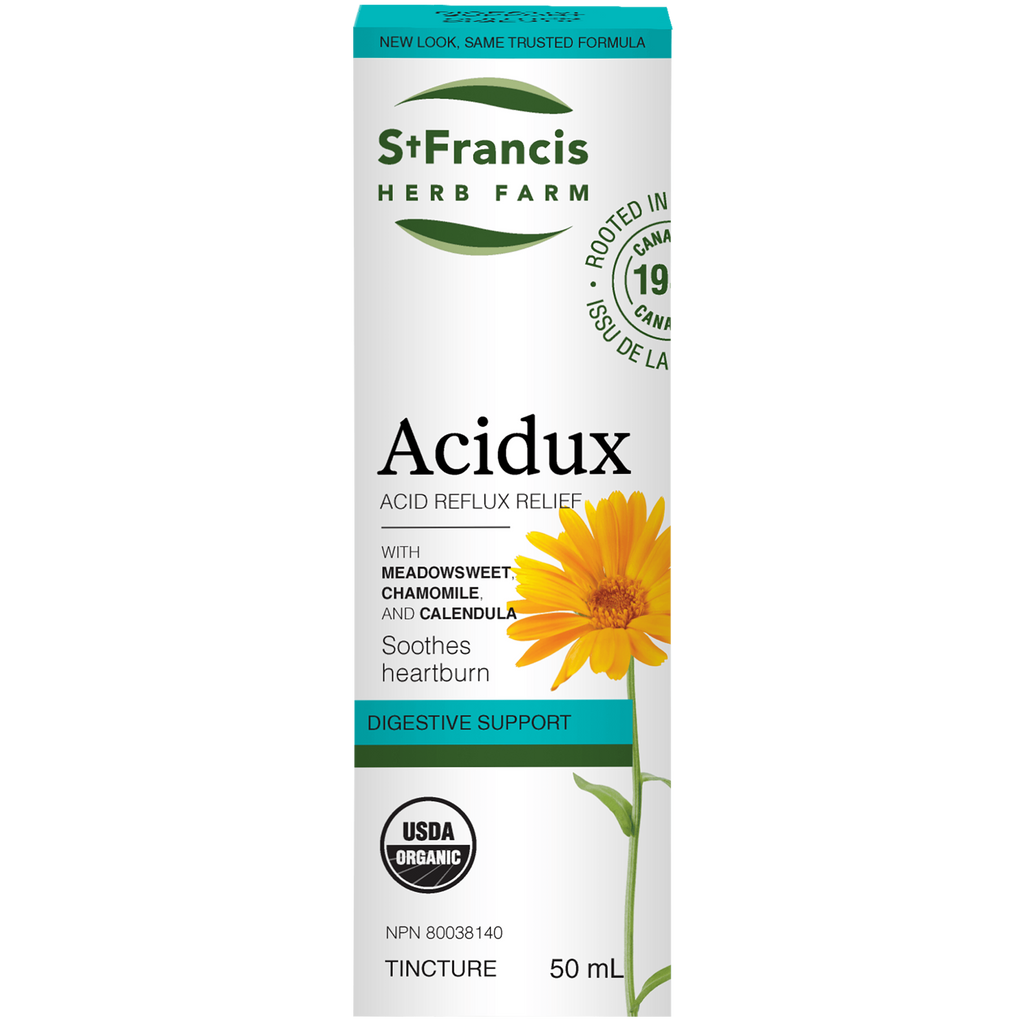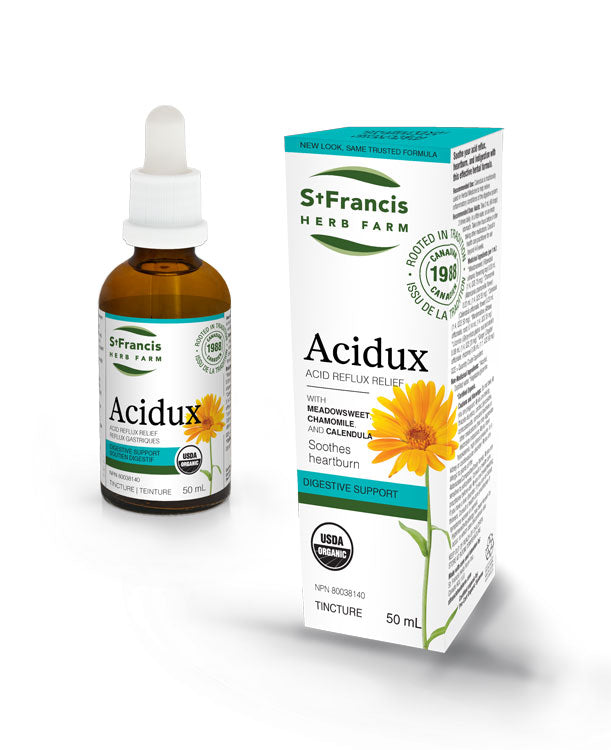 ---
---
Acidux tincture formula helps relieve inflammatory conditions of the digestive system.
A synergistic combination hinged on the antacid, anti-inflammatory action of calendula and meadowsweet
With stomach-settling action of chamomile, licorice, and ginger
Includes soothingly demulcent marshmallow
Medicinal Ingredients:
Meadowsweet (Filipendula ulmaria, flowering top), Chamomile (Matricaria chamomilla, flower),Calendula (Calendula officinalis, flower), Marshmallow (Althaea officinalis, root), Licorice (Glycyrrhiza glabra, root and stolon), Ginger (Zingiber officinale, rhizome)
Non-Medicinal Ingredients:
Distilled water, Certified Organic alcohol, Certified Organic vegetable glycerine
Dosage:
Adults: Take 2 mL (60 drops) 3 times daily, in a little water, on an empty stomach. Take a few hours before or after taking other medications.
Cautions and Warnings:
Consult a health care practitioner before use: if you are breastfeeding; if you have a liver disorder; if you are on blood thinners. Consult a health care practitioner if symptoms worsen or persist.
Contraindications:
Do not take: if you are pregnant; if you are taking thiazide diuretics, cardiac glycosides, corticosteroids, stimulant laxatives or other medications that may aggravate electrolyte imbalance; if you have hypokalemia, high blood pressure, or a kidney or cardiovascular disorder; if you are allergic to plants of the Asteraceae/Compositae/Daisy family; if you are sensitive to salicylates.
Known Adverse Reactions:
Hypersensitivity/allergy has been known to occur, in which case discontinue use.
---